London 2012 Olympic Velodrome displays a very simple and pure concept
AWARD: LONDON 2012 VELODROME
Olympic Park, London
Architect Hopkins Architects
Structural engineer Expedition Engineering
Steelwork contractor Watson Steel Structures Ltd (Severfield-Rowen PLC)
Main contractor ISG Construction
Client Olympic Delivery Authority
With its Pringle-like double curving roof; the London 2012 Velodrome has become one of the most recognisable and popular venues on the Olympic site.
According to Andrew Weir, director of structural engineer Expedition Engineering, the intention was always to use a very lightweight structural solution to achieve Hopkins's "very simple and pure" concept for the 6,000 seat building. Although the team considered using a steel arch, it always favoured a cable-net roof solution, which had rarely been used in the UK. on such a large scale.
The structure consists of in situ concrete for the lower bowl, and structural steel for the cedar clad upper bowl, topped by an undulated steel perimeter ring truss, which restrains the roof cables. The cable-net includes 14 km of steel cable, with 36 main cables arranged in pairs at 3.6m centres. It is pulled down hard on to the seating bowl structure below, giving the venue its distinctive roof form.
The 13,000sq m roof is estimated to be about 35% lighter than that of the next comparable venue and is topped with a standing-seam aluminium covering. The roof's cable-net form reduced the need to work at height, with the cables set out at ground level before being jacked into position over three weeks.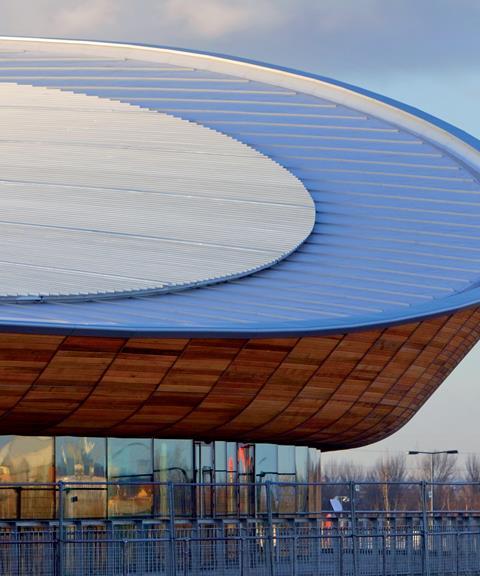 The upper and lower tiers of seating are separated by the main circulation concourse, which is glazed to allow views in and out of the building. Cladding was fixed directly onto the outside of the bowl, and seating terraces were fixed directly to the inside with air-handling units integrated into the voids within the skeletal bowl structure. "Shrinkwrapping" the building envelope on to the steel skeleton in this way reduced the surface area and cost of cladding.
The Velodrome achieved a Breeam "excellent" rating, assisted by its 29% recycled content, lightweight structure and use of natural ventilation.
The judges were impressed by the use of lean, sustainable design to achieve an iconic sporting venue.
"It's incredibly elegant - a very, very fine building; says judge Oliver Tyler. "I like its efficient use of material, and its integration of architecture and engineering. You feel that it's a reflection of what cycling is all about - efficiency - with warm curves and a sense of drama. It's very, very well put together."
After the games the Velodrome will remain on the Olympic Park as part of the VeloPark cycling venue.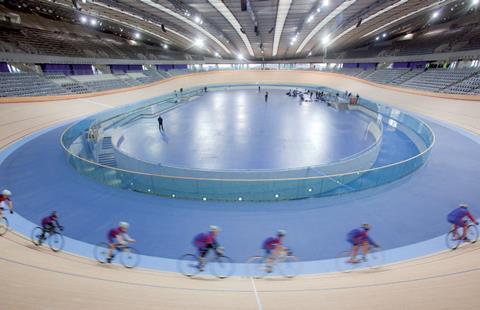 Postscript
In association with The British Constructional Steelwork Association and Tata steel