Design reduces the impact of the potentially unsightly building within a boldly articulated pavilion
COMMENDATION
ENERGY FROM WASTE FACILITY
La Collette, Jersey
Concept architect Hopkins Architects
Executive architect EPR Architects
Structural engineer Campbell Reith Hill LLP
Steelwork contractor Boume Steel Ltd
Main contractor CSBC
Client States of Jersey Transport and Technical Services Department
Its prominent position, on a headland close to the Jersey capital of St Helier, made it essential that the large-scale Energy from Waste Facility was aesthetically pleasing as well as
highly functional.
Hopkins wanted the building to have a "nobility of grandeur" in the vein of the best industrial buildings. Its design concept housed the bunker, boiler hall and gas treatment area, as
well as the various incinerators and turbines, all under one 3,000 sq m, column-free structure, which enclosed, but didn't touch. the process equipment.
"The difficulty was the scale of it: 80m long and 35m high, with nothing inside to stabilise it," says Will Shaw, project engineer of structural engineer Campbell Reith Hill. "It had to be a completely free standing environment."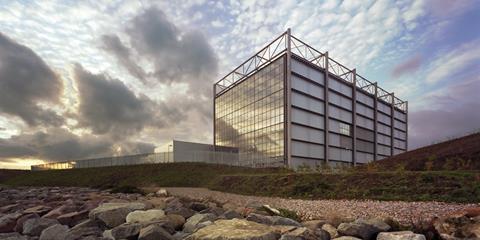 The design expresses the structure externally beyond the building envelope. "It makes a feature of the structure by putting the trusses and columns on the outside," adds Shaw.
The structural grid consists of six 36m-long main tubular roof girders, tied together by four lines of 16m-long secondary trusses, all supported on 37m-high columns at 16m intervals.
The two gable ends are glazed with insulated panels cladding the long elevations.
One thousand tonnes of fabricated trusses and columns were brought to the island in sections, and welded and painted on site before being lifted into place around the process
engineering equipment, which had been installed beforehand because of its size and complexity.
The coastal environment meant that the steelwork had to be coated in an epoxy protective paint to minimise future maintenance requirements.
Inclusion of a sprinkler system within the building removed the need for any additional fire protection to the steelwork.
The judges praised how the design reduces the impact of the potentially unsightly building within a boldly articulated pavilion.
The Energy from Waste Facility now provides up to 7% of Jersey's electricity.
Postscript
In association with The British Constructional Steelwork Association and Tata steel