Project described as the "urban equivalent of open-heart surgery"
COMMENDATION
BOROUGH HIGH STREET BRIDGE
London
Architect Jestico + Whiles
Structural engineer Atkins
Steelwork contractor Watson Steel Structures Ltd (Severfield-Rowen PLC)
Main contractor Skanska Civil Engineering Ltd
Client Network Rail
"This whole project is the urban equivalent of open-heart surgery," says judge Bill Thylor of the Borough High Street Bridge in London, a rail crossing 10 years in the planning.
The bridge spans 70m over Borough High Street, with a 128m-long approach viaduct to the west and another 50m viaduct to the east. The complexity arose from its sensitive conservation site within Borough Market and its close proximity to busy roads and railways. The challenge was to construct the new crossing with minimum disruption.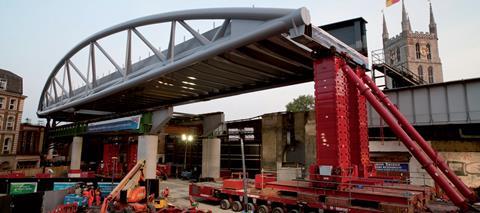 Installation took just one weekend. Watson Steel built the bridge on the actual viaduct itself, first constructing the western approach viaduct over Borough Market. It then used this as a working platform for building the main bridge, which it installed in precast units.
The main bridge's trapezoidal girder was made in Watson's workshop, then transported in sections, and butt welded in a temporary welding and painting shop set up on the viaduct.
Postscript
In association with The British Constructional Steelwork Association and Tata steel