The practice has been testing materials and utilising nanotechnology to find the right application for a seven-storey office building in Mayfair, London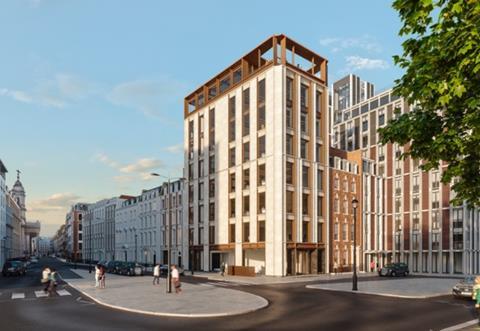 London-based practice Basha-Franklin has designed a seven-storey office building at 25 Hanover Square in London's Mayfair Conservation Area.
The proposed workspace for real estate manager, Morgan Capital Partners, retains much of the existing structure, which is being reworked in hopes of improving the building's visual appeal.
Proposals include a new entrance and reception at ground level, alongside workspace and a reconfigured terrace overlooking the square.
With construction works underway, the practice has been testing the material choices through two four-metre high 1:1 facade mock-ups. The design combines steel and limestone with nanotechnology in what the team are calling a world-first.
Portland limestone was specified, coupled with pre-patinated Corten steel — a nod to the red brick used throughout this part of Mayfair.
Corten oxidises over time, changing from a grey to a rust-coloured patina protecting the metal from corrosion. During the early stages of weathering, runoff bleeds into the other facade materials, leading to permanent staining — impossible to avoid in London's climate.
It's no surprise that Corten is not a natural partner for the putty-coloured Portland stone — but the team were determined to find a way. Conversations kicked off two years ago with stone contractor Putney & Wood, and through a series of workshops they explored what was and was not possible when combining the two materials.
Portland limestone was specified, coupled with pre-patinated Corten steel
"The main aim and purpose of creating the mock-up was to provide the client and design team with a series of technical installation, and aesthetic choices, and to ensure that the weathering steel didn't stain the Portland limestone. To do this, we ran a series of finishing, chemical and oxidisation tests on the weathering steel. That included working with a facade meteorologist and climate consultant who conducted a series of atmospheric data analyses that explored the specific weather profile in that part of London. We looked at temperature, airborne influences, humidity, review of historic extreme weather and multitype precipitation," explained Alex Franklin, director of architecture at Basha-Franklin.
Design engineers, Pipsqueak, and facade engineer, Fortis, joined the the project to develop ideas for how the materials could play well together. This led to Khando being introduced, a provider of nano-coating solutions. Franklin continued: "It was a very long and in-depth process which took place over a year before the mock-up was built. Once we found the right colour and visual aesthetic that we wanted from the weathering steel, we applied a unique sealant, intending to significantly reduce and control any further oxidization."
The sealer is applied to the limestone, part of which — despite being circa. 155 million years old — has been sourced from a newly discovered bed. A similar sealer by Bromoco International will be applied to the metalwork by Elite Metalcraft, allowing both materials time for the Corten to weather without affecting the appearance of the stone.
The goal was to ensure that the combination of so many varied materials, which are sensitive to one another, do not negatively influence the facade's performance — or affect the wider environment. Eleven months into the mock-up's testing period, the team has seen no evidence of this.
"Not only has the pre-oxidisation and the sealant worked for the duration planned for, but the strategic draining channels that are hidden within the design have been carrying any contaminated water away from the stone, whilst simultaneously supported by a unique filtration system that removes ferrous materials from entering the water course, which was designed in-house," said David Kelly, managing director at Fortis Facades.
Working with Elite Metalcraft, a second mock-up has also been constructed to test the bespoke design and colour of the Corten metalwork. Gaps have been designed to allow excess water to run between the metal and stone.
Special attention has been paid to the glazing, crafted by Guardian Glass and fitted by JFAN, it is made with a high G-value to reduce thermal transmission of UV radiation and several layers of anti-reflective coating.
The facade work, which has been designed for disassembly, will start in early 2024.
Project details
Architect and interior designer Basha-Franklin
Client Morgan Capital Partners
Stone contractor Putney & Wood
Design engineer Pipsqueak
Facade engineer Fortis Facades
Steel specialist Elite Metalcraft
Sealer Khando, Bromoco International