Holland Harvey Architects repurposes a crescent of Grade II mid 19th century Victorian townhouses in London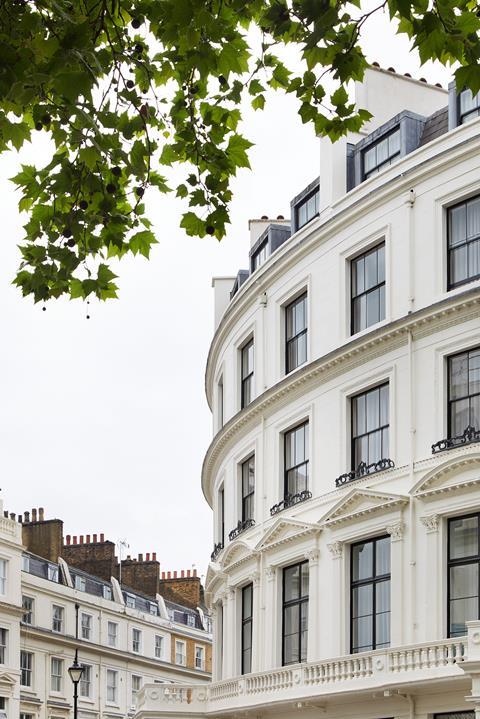 Holland Harvey Architects delivers a wellness focused hotel in Bayswater, West London, named Inhabit Queen's Gardens.
Led by principles of adaptive reuse, the project repurposed a crescent of Grade II mid 19th century Victorian townhouses to create an intimate and welcoming building.
Designed in collaboration with Caitlin Henderson Design, the hotel provides a series of social spaces, 159 guest rooms and a flexible meditation and exercise space which sits alongside treatment rooms and an infrared sauna.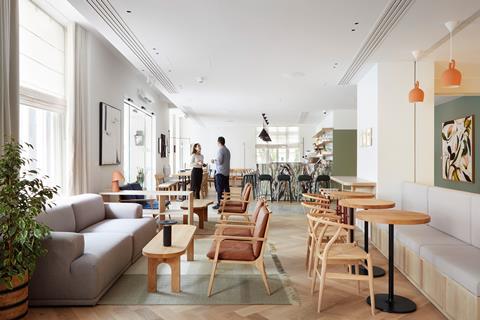 Bringing the public spaces to the forefront of the scheme, the design team opened up the ground floor to improve circulation for both front and back of house areas.
Just under 100% of waste from the project's construction phase was diverted from landfill via recycling initiatives or reused in different forms in the finished space.
Designed to echo a residential setting, distinct areas are demarcated with different floor patterns and the ceiling has been coved around the perimeter of the room to meet the top of the large windows that maximise natural daylight.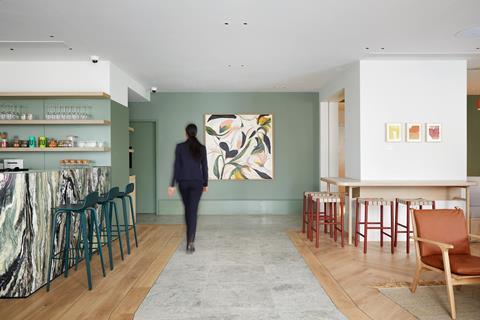 The reception desk has been purposely situated away from the main entrance so that guests are encouraged to explore as they enter through the lounge.
The team also worked with Goldfinger to deliver bespoke furniture throughout. Each hotel room has been designed with the modern traveller in mind, specifying a contemporary pallet of natural materials and bespoke pieces such as the bedside tables designed to hide away technology.
Some bedrooms feature vanity units with bespoke sinks by Kelham Island Concrete within the open bedroom to maximise the space and allow for a larger bathroom.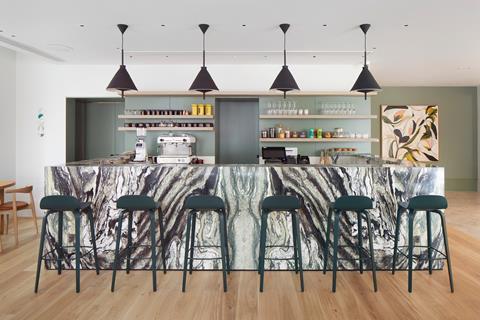 Nadira Lalji, Founder of Inhabit said "Together with Holland Harvey, we sought out artisans and smaller enterprises, many of which work with sustainable or upcycled materials (and most of which did not work on larger scale hospitality projects). By showcasing new players and experimenting with new materials, we hope not only to model responsible hospitality practices, but also to inspire other hoteliers to follow suit."
Holland Harvey's design for Inhabit Queen's Garden's seeks to be an exemplar in adaptive reuse of space and materials in the hospitality industry echoing the brand's commitment to environmental initiatives.
Project details
Architect Holland Harvey Architects
Design partner Caitlin Henderson Design
Client Inhabit Hotels
Carpet Ege Carpet / Rawline range
Tiles Mosa Tiles / Terra range
Ceramics Granby Workshop / Granby Rock
Shower screens Drench
Sinks Kelham Island