£37m structure aims to replicate patients' course through hospital from A&E to recovery
Coventry University's new £37m Science and Health Building – designed by Broadway Malyan – has been created to provide students with an immersive hospital environment, like those they will encounter in their professional lives.
The 11,150sq m building, which has just opened to its first intake of students, has been specifically fashioned to deliver learning facilities that accurately represent the patient journey from accident and emergency to recovery, with a mock ambulance, simulated wards and operating theatres, and rehabilitation areas.
It also includes industry-grade laboratories that can accommodate up to 250 students at a time and Olympic-grade fitness and sports research facilities.
Externally, it has been designed to respond to an environment that includes Basil Spence's grade I-listed Coventry Cathedral, and other heritage buildings, with a palette featuring handmade brick, exposed concrete blades and anodized grey window frames.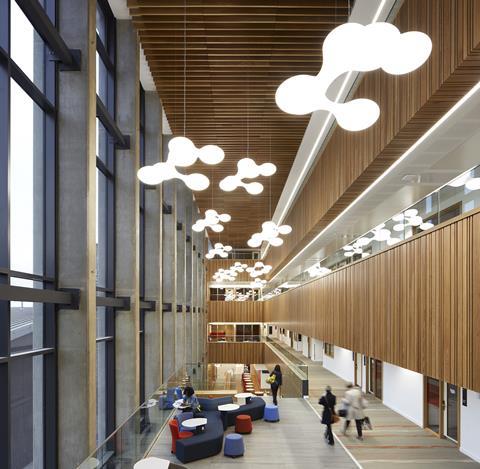 Birmingham-based Broadway Malyan director Neil Rose, who led the project, said the building was a unique learning facility that also represented "an exciting addition" to Coventry's urban landscape.
"Working closely with our university stakeholders allowed us to challenge the traditional science and health pedagogy and shift the emphasis from the standard cellular teaching and office space model towards a more active and practical 'real life' approach to learning," he said.
"This is a building that has been designed from the inside out, driven by the needs of the users and how collaboration between spaces can be maximised."
The Science and Health Building is one of a number of new projects being delivered by the practice as part of a 10-year investment programme by the university. One of those projects is the conversion of Dagenham Civic Centre into a London campus for the institution.