€60m Petronas facility will develop new lubricants for motorsport and domestic vehicles
A Broadway Malyan-designed research and development centre for Malaysian oil giant Petronas has been officially launched by Formula 1 racing stars Lewis Hamilton and Valtteri Bottas.
The $60m (€50m) facility in Turin will develop lubricants for use in motorsport and in domestic vehicles and was won by the practice in an international competition.
Broadway Malyan director David Anderson said the project had been designed in the practice's Reading studio and delivered with Milan-based 967 Architects and F&M Engineering.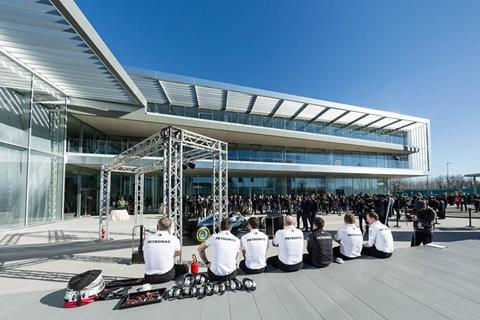 "This is a striking piece of architecture that is perfectly suited to its Alpine setting and very much reflects the aspirational values of Petronas and their performance partners," he said.
"It offers a dynamic future workplace environment that embraces a range of connected functional spaces including offices, learning and conferencing facilities, laboratories, visitor experience, engineering workshops and welfare facilities that collectively showcase Petronas' technical expertise."