Practice seeks approval for 163 flats as part of mixed-use scheme
Broadway Malyan has submitted proposals for a housing-led mixed-use scheme on an industrial estate in Hove.
Its plans for Lyon Close – halfway between Brighton and Hove stations, and a stone's throw from Sussex County Cricket Club's 1st Central County Ground – were drawn up for developer Crest Nicholson and would deliver 163 flats and 1,000sq m of new commercial space.
Stuart Bertie, a director at the practice's Weybridge studio, said the four-block scheme – which ranges in height from five to 10 storeys – featured an enclosed shared garden accessible from each building.
"This is a major development site in Hove and it was important we designed a project that not just provided much-needed high-quality housing in the area, but also responded positively to its surroundings," he said.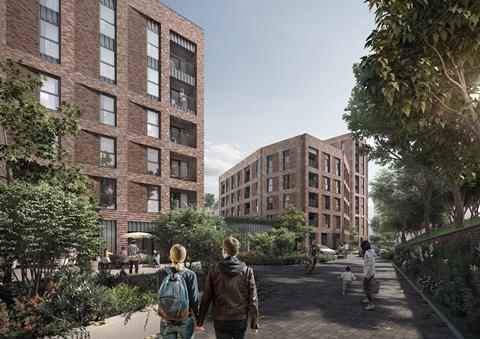 "The scheme is designed to be simple, clean and crisp with a clear architectural idea that is both contextual and forward-looking.
"We have chosen a material palette of three types of brick and perforated metal that complement the surroundings without being a pastiche of Brighton's existing urban fabric."
He added: "The design is simple in its approach, the detailing of the building is important, with elements including metal vertical balustrading and corbelled brick details to the base storey that reference local historical buildings."
Brighton and Hove council has set a target determination deadline of late September for the proposals.