Future of sibling artworks less clear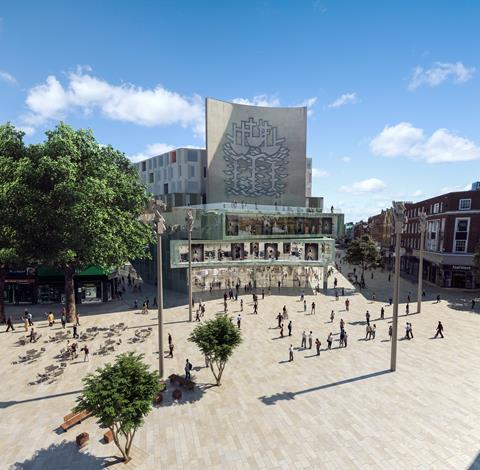 Hull City Council is planning to build a £130m mixed-use development in the city centre, with outline designs by AFL.
AFL's scheme attempts to preserve at least one of a series of historic murals currently on the site.
Although an architect has not yet been appointed to bring forward the final design, it is understood that the council does not want to significantly vary the most recent design vision produced by AFL.
As it stands the Albion Square development will include a new ice arena, 278 flats and 10 retail units covering 16,750sq m. It will also have 832sq m of office space, a 612-space multi-storey car park and a new public square.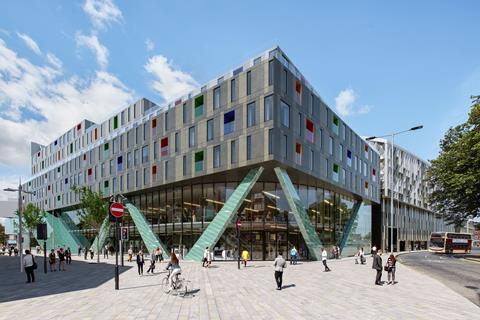 The city council owns the 2.2ha Albion Square site after spending £2.8m on the Edwin Davis and Co-op buildings which previously occupied the plot. The Edwin Davis building was a 1952 art deco department store, while the Co-op building was a modernist store last occupied by BHS in 2016.
The front of the Co-op building is emblazoned with a glass mosaic depicting three ships, which was erected by artist Alan Boyson in 1963 after being comissioned by the Co-operative Society.

The proposed redevelopment of the Co-op building sparked a backlash from locals concerned about the fate of the mural, with the Hull Heritage Action Group launching a petition to give it grade II-listed status.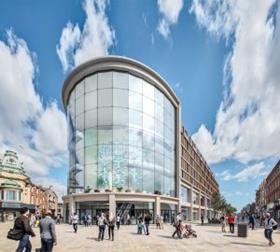 The council has incorportated the mural, a symbol of Hull's nautical history, into the Albion Squre design, but it remains uncertain whether the original mosaic can be transplanted to a new building.
Hull council's city manager for major projects and infrastructure, Garry Taylor, said: "It's a really special piece and we desperately want to keep it if we can.
"We don't know as yet if moving it will be possible, but it's certainly an iconic piece and very important to the people of Hull," he added.
There are fears that it will not be possible to save a second mural inside the building, depicting fish, because of asbestos. The Hull Daily Mail is reporting that the fate of a third "forgotten" mural by Boyson is currently unknown. Measuring 12ft 6ins by 14ft, this mural was spotted by architectural historian Christopher Marsden using slides and original drawings provided by retired Co-op architect Philip Andrew, said the paper.
The development forms part of a wider drive to market an area of Hull's city centre as the Royal Quarter.