A new guide to delivering sustainable places misses an opportunity to highlight the centrality of reuse in addressing climate change, writes Laura Baron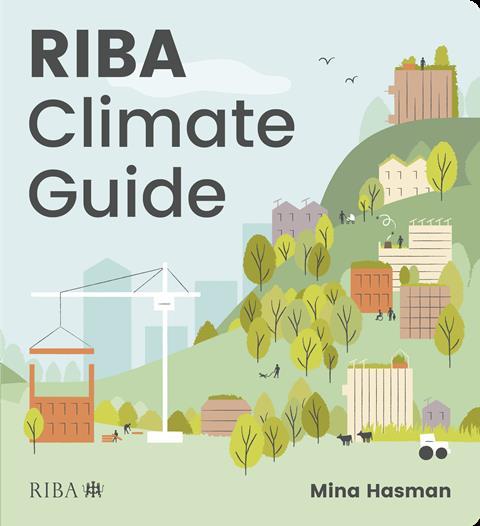 Climate literature is now a canon. The library of environmental-themed literature has continuously developed in volume and understanding, leaving climate conscious architects with no shortage of books, articles, websites, papers and podcasts on the topic of sustainability in the built environment.
If there is an excuse for the ill-informed it is information overload. Where to start, what to focus on, and what to trust, is an increasingly common challenge. Unpicking and filtering the vast quantities of information, guidance, and data is (quite literally) a full-time job. It is therefore no wonder that climate literacy is still seen as the essential and urgent step in the journey towards net zero in the built environment.
Mina Hasman's recently published RIBA Climate Guide sets out to distil this complex and wide-reaching topic; capturing the core themes and competencies to create a framework through which to approach the design and delivery of sustainable places.
Deftly underpinned by well-established climate science, the book resolutely and immediately dismisses any opinion (including those made through this publication), that architects have no agency to address the climate emergency: "As designers and built environment professionals, it is our responsibility to ensure that the buildings we create can thrive in the long-term, finding harmony with the natural environment and bringing health and prosperity to people within planetary boundaries."
Aligned with the RIBA Climate Literacy Knowledge Schedule, and building on the excellent work of the Cross-Industry Action Group's Climate Framework, the book's six overarching themes neatly contextualise the UN Sustainable Development Goals in the built environment.
Placing people at the fore with the first theme titled Human Factors, the book avoids playing into 'carbon tunnel vision'. It reminds readers that climate conscious solutions can, and should, seek far-reaching benefits that support human health, wellbeing, and comfort, as well as a greater appreciation of, and connection to, the natural world. Alongside the other five themes of Circular Economy, Energy and Carbon, Water, Ecology and Biodiversity, Connectivity and Transport, the book promotes a holistic approach to sustainability that goes far beyond merely reducing greenhouse gas emissions.
The refreshingly legible and straightforward structure makes for easy reference, with clear strategies for each theme, complemented through case studies showing real-life application. All themes are given equal weight in the book, presumably to allow readers to lean into the strategies that are most relevant to their projects without imposing a hierarchy of measures, or one-size-fits-all solution.
1.8 homes need to be retrofitted in the UK every minute
The role of built environment professionals in the retrofit, adaptation, and reuse of existing buildings is rightly described as fundamental to the global built environment's decarbonisation agenda. Several second chapter pages are dedicated to acknowledging the fact that existing buildings "present the biggest barrier in meeting the net zero carbon target by 2050". If we are to achieve net zero by the middle of this century, 1.8 homes need to be retrofitted in the UK every minute between now and that date.
With the case for retrofit so clearly set out, and a lack of knowledge and an unskilled workforce identified as reasons for the slow uptake of renovations, it leaves an obvious gap in the RIBA Climate Guide. Of the 30 case studies cited throughout the book, only one involves the refurbishment of an existing building. By no means does this discredit the case studies that are included, each one a suitable example of the innovative strides being delivered across the globe, contributing to a valuable resource that will hopefully inspire others to do the same.
Some notable examples within the chapter on circular economy include Tecla, a 3D-printed clay house by Mario Cucinella Architects; the Circular Pavilion in Paris designed by Encore Heureax, a temporary structure made of reclaimed materials; and ZIN in Brussels by 51N4E, Jaspers-Eyers Architects and L'AUC. Once completed, ZIN will have apparently repurposed 95% of the materials from the 1970s buildings that previously occupied the site – an admirable achievement if delivered.
That said, examples demonstrating an approach to the circular economy within the constraints of an existing building are notably absent despite their importance to the conversation. Architects like Pritzker Prize winners Lacaton & Vassal, for example, were lauded for their uncompromising "never demolish, never remove – always add, transform and reuse" mantra. This needs to be added seriously to the discourse as it inevitably becomes more commonplace.
Their absence may be more telling of a wider issue within our industry; a materialistic obsession with the pristine and the new, at the expense of the creaking but generous structures of our past.
We must lose our egos, reevaluate our relationship with the new and see the value in what already exists around us, in all its imperfect glory
In the chapter on Energy and Carbon, six key strategies outline how to reduce whole life carbon emissions, citing carbon capture first, and building reuse and retrofit last. For anyone familiar with the book's commissioners, it is hard to escape a sense of this appeasing the plethora of RIBA members still ardent in their belief that technology and innovation will come to our rescue long before we have to fundamentally change the way we practice. And that for me, is where this book falls short.
Whilst clearly a useful publication in advancing climate literacy, it fails to fully address the seismic shifts our industry must embrace. A point made much more convincingly in the book Designing for the Climate Emergency, by Sofi Pelsmakers, Elizabeth Donovan, Aidan Hoggard and Urszula Kozminska:
"As architects, we can – and must - be part of the radical change needed […] Climate emergency design requires a culture shift and a new ethical position. It is about taking a position on the ethical responsibility that we have as architects, and it is based on a conviction to do the right thing (far beyond the project brief)."
As articulated brilliantly by Joe Giddings in a recent article, in a little over 25 years' time, wholly new construction will be rare if we are to stick within our remaining carbon budget for buildings. For most future architects, their role will not be in the creation of new things, it will be in the adaptation of what we already have.
Working within the constraints of existing buildings is complex. It is not the blank canvas onto which architects can project their creative vision, although it certainly requires creativity. It also requires compromise. We must lose our egos, reevaluate our relationship with the new and see the value in what already exists around us, in all its imperfect glory.
These skills will be essential to meeting the challenges ahead. By failing to properly showcase examples of retrofit and adaptive reuse as worthy architectural solutions to the climate crisis, the RIBA Climate Guide avoids addressing the real mindset shift desperately needed by our industry. Which, in this otherwise comprehensive climate design guide, seems like a missed opportunity.
>> Also read: Why Muyiwa Oki wants to shift the debate on reuse
Postscript
RIBA Climate Guide by Mina Hasman is published by RIBA Publishing.
Laura Baron is an architect, Head of Sustainability at Purcell, and Climate Literacy Coordinator for ACAN.