Aperture Works is the first phase of the development in Harrow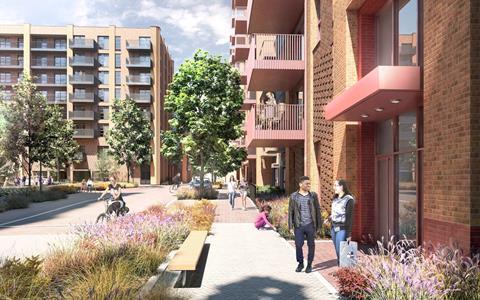 BPTW Partnership's Aperture Works project at the former Kodak factory site in Harrow, north-west London, has received planning permission.
This initial phase was designed in partnership with housing association and developer L&Q following consultation with Harrow council.
Aperture Works will feature 650 residential units, a variety of one-, two- and three-bedroom apartments and maisonettes - 143 of which will classed as affordable.
As a whole, the masterplan aims to preserve and strengthen the area's heritage, by retaining and working alongside key historic features, such as the Kodak factory chimney. This is in line with the council's intent to provide spaces for new and existing residents.
The project also includes a health facility and flexible commercial spaces. It is connected to 1.21ha of public space that incorporates the area's proposed green link, which includes walking and cycling tracks.
The former Kodak factory opened in 1891 and was the largest photographic manufacturing plant in the Commonwealth – as well as one of Harrow's largest employers - until its closure and decommissioning last year.