dRMM's pier attracts lion's share of bets
Bookies have slashed the odds on dRMM's Hastings Pier winning the Stirling Prize a month before the winner is announced.
The community-driven project has been the favourite from the day the shortlist was unveiled but the odds have more than halved from 3:1 to 5:4, reflecting the public's enthusiasm for the scheme.
More than 60% of the 130-odd bets placed so far have been on the pier.
Amin Taha's flats at Barrett's Grove in north London slipped from joint favourite to joint third behind 6a's studio for photographer Juergen Teller. It shares third place with Reiach & Hall and Michael Laird's City of Glasgow College.
Rogers Stirk Harbour's British Museum conservation centre is being offered at 6:1 and Baynes & Mitchells' Command of the Oceans trails at 7:1.
But all that could change, said Rupert Adams of William Hill, in an expected last-minute flurry of bets in the days before October 31's Stirling ceremony at the Roundhouse.
"I wouldn't be unduly worried if I was one of the other architects," he said.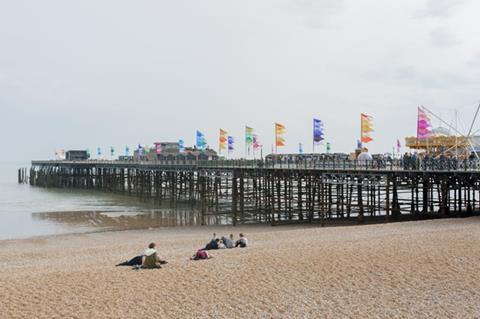 "The simple reality is the turnover in this particular market is such that it doesn't take that much money to change the prices. A £100 bet could be enough – whereas in football it would take £100,000 to change the prices."
The single biggest bet so far has been £250, placed on the pier.
"We don't pretend to be experts in this particular area," said Adams. "It's three or four of us reading the critics and saying, 'What do you think?' We put the prices quite close together and then let the market see what it thinks. We thought the pier would do well and that's been backed up with cash."
The original odds in July placed the pier and Barrett's Grove at 3:1, City of Glasgow College at 7:2, the photography studio at 4:1 and the British Museum and Command of the Oceans at 6:1.