Stirling Prize-shortlisted practice to bring grade I-listed dockyard building back into use
Stirling shortlisted Baynes and Mitchell Architects has won planning permission to refurbish part of a grade I-listed building at Chatham's Historic Dockyard as new commercial office space and heritage facilities.
The project centres around the Fitted Rigging House, currently on Historic England's Buildings at Risk Register, and which is part of the Kent heritage site's Anchor Wharf Storehouses.
As well as restoring the existing 9,000 sq m building, the project will provide 3,600 sq m of commercial office space, new offices for client the Chatham Historic Dockyard Trust, new facilities for volunteers and new archives, reading rooms and teaching space.
It is the latest of several Baynes and Mitchell schemes at Chatham, which was the backbone of the resurgent Royal Navy in the late 18th and early 19th centuries.
The practice is a finalist for the 2017 Stirling Prize for its Command of the Oceans visitor centre at the dockyard site.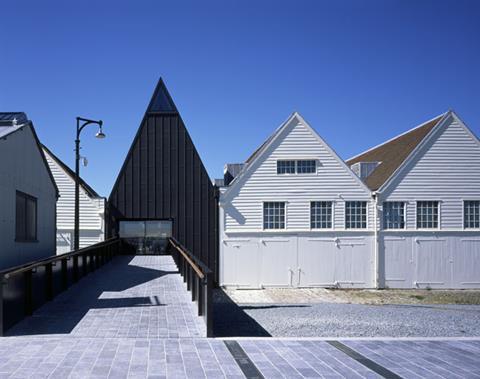 Director Alan Mitchell said the approval would allow the trust to generate new revenue through the conversion of unused floorspace into high-value offices, and help to secure the long-term financial sustainability of the wider site.
"We are delighted to have secured planning consent for another exciting project at Chatham Historic Dockyard," he said.
"While we're keeping our fingers crossed for Command of the Oceans in the run-up to the RIBA Stirling Prize announcement, we're now getting down to work with our partners at the dockyard to bring another of Chatham's terrific historic buildings back to life."
Construction work on the project is due to start next month for completion in September 2018.