Brent approves capital's third shipping container mall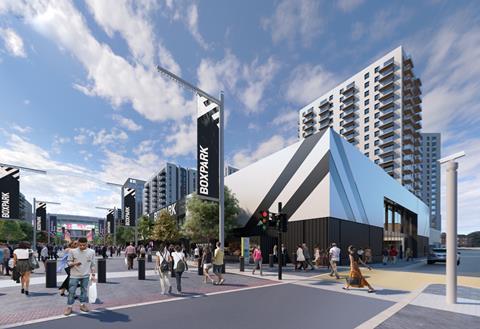 Boxpark and BDP have been given the planning nod by Brent council to build the capital's third shipping container shopping centre at the Wembley Park development, north-west London.
Boxpark opened its first scheme in Shoreditch, east London, in 2010 and has a second site next door to East Croydon train station, which opened two years ago. It said the new Wembley site would open towards the end of this year.
The Wembley Boxpark will be built on Wembley Way and will include 27 food and drinks outlets operators, a 20,000sq ft dedicated events space and a 300 capacity venue. Coming in at 50,000sq ft, it is Boxpark's biggest outlet so far.
Architect on the scheme is BDP, which also drew up plans for the Croydon venue. The Shoreditch scheme was designed by Waugh Thistleton Architects.
There are shipping container pop-ups in other locations such as Brixton and Elephant & Castle run by other companies.
Boxpark and Qunitain – which is behind a huge redevelopment of the area around Wembley stadium – have agreed a joint venture to run for 10 years.