Proposal is part of a sketchbook of ideas for Victoria Street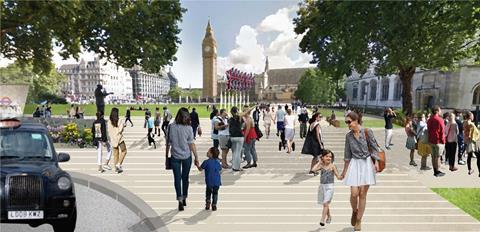 BDP has revealed images of how Parliament Square could look if traffic were banned from two sides of the notorious gyratory.
The sketch, showing the road outside Westminster Abbey filled with pedestrians, is part of an album of pictures reimagining key areas around Victoria Street.
The architect and transport planning consultant Urban Flow were appointed by the local business improvement district (BID) to work on ideas for reducing traffic and expanding green infrastructure around Parliament Square, Victoria Street and the piazza outside Westminster Cathedral.
The People Wanted project has been developed alongside talks with Westminster council and other stakeholders. Following further consultation the vision document will form part of Victoria's future Place Plan, which is being led by the council pending permissions and funding.
BDP's proposal for Parliament Square involves removing through traffic from the eastern and southern sides of the square and pedestrianising the route from Victoria Street to the Palace of Westminster and the abbey.
It also proposed creating the Arc, a route from Whitehall to Victoria Station avoiding a chunk of Victoria Street. Using the quieter Tothill Street and Broadway, it would feature shops, cafes, more crossings and wider pavements.
The architect also proposed a new park along Victoria Street, with water features and plants around the cathedral piazza.
Ruth Duston, chief executive of the Victoria BID, said the idea was to help residents, workers and visitors enjoy the area's public spaces and surroundings.
She added: "We know our vision is ambitious but we think it's achievable and we've already set a precedent – the transformation of Christchurch Gardens [opposite the old New Scotland Yard site] was included in previous vision documents produced by the BID and works are now underway to create a public park for everyone to enjoy.
"With its unique role and mandate, the BID is able to pull the right people together from across the public and private sectors to get these bold projects moving."
The BID appointed Allies & Morrison this month to develop a masterplan for the transformation of Victoria station hub and its surroundings.