Lumiere Design claims 435-home scheme will be the most sustainable building of its kind in the world
Hertfordshire practice Lumiere Design has lodged plans for a 435-home apartment building that it claims will be the most sustainable structure of its kind in the world.
The practice's proposals for a brownfield site next to the railway line in Hemel Hempstead would deliver the homes over 14 storeys, and would also boast a gym, coffee bar, nursery school, health facilities and a rooftop games area.
Dubbed Boxmoor Forest, the building would be largely covered by "bio-filter" vegetation, that the practice said would help clean the air and contribute to sustainable drainage.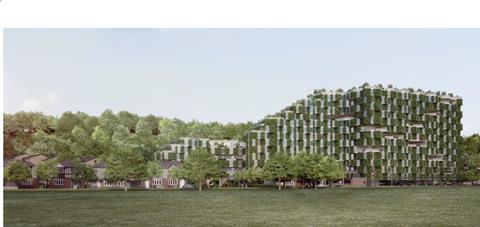 Head architect Nik Vyas said the proposals, now submitted to Dacorum Borough Council, would directly address the historic under-delivery of new homes in the local area and be "zero-emission, net carbon-positive", but he also signalled that a degree of local opposition was anticipated.
"Boxmoor Forest represents the most sustainable development of its type anywhere in the world," he said.
"Britain has the opportunity to lead the world and show that emissions-free developments are not only possible today, but also profitable."
Vyas said parking for the development would be delivered by an automated underground system, capable of handling 326 vehicles.