Roupell Street residents rue Tony Fretton Architects' school-extension plans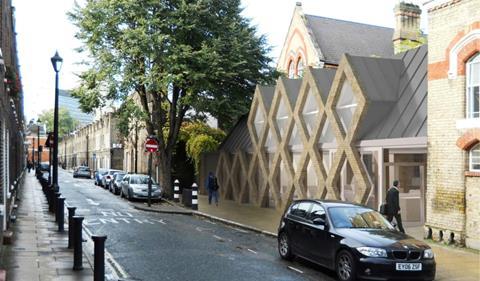 The proposals for Roupell Street, drawn up by Tony Fretton Architects
Residents on a unique and historic inner London street have vowed to oppose plans to extend a language school, which they claim will damage the conservation area's heritage status.
The proposals, designed by Tony Fretton Architects for the Education First language school, would see a front wall demolished and railings removed at a Grade II-listed school building on Roupell Street, near Waterloo Station, to make way for a new canteen and an inner courtyard.
Roupell Street dates back to the 1830s and is famed for its traditional "butterfly" roofs with valley gutters, described by architectural critic Ian Nairn as "a wavy parapet" that created one of the capital's finest architectural effects.
Seventy three buildings in the street – originally occupied by artisans – are listed at Grade II.
The language school – known as EF – is seeking planning permission for the development from Lambeth Council, however the proposals are being opposed by a group of residents who fought similar plans two years ago. That scheme was subsequently withdrawn.
According to documents lodged with the council, the extension presents "an opportunity to restore the historic streetscape of Roupell Street, characterised by its masonry facades and repeated gable end frontages".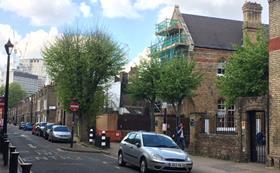 The extension would "add to a sense of completeness of the street scene, a role previously established by the former infants hall, simultaneously offering transparency through to the courtyard that would be lost if the hall were to be a mere replica of the original building," the documents said.
Henry Bennett, who lives opposite the school, said there was growing anger among residents, many of whom had actively opposed the last application to develop the building in 2015 in a campaign he claims attracted more than 11,000 signatures.
"The first time there was local outrage," he said.
"EF has let the anger dissipate and is trying again. I hope they will realise the heritage of the street. It's a big step to knock down part of a listed building."
A spokesman for the school said the two-storey extension was part of wider plans to improve layouts, facilities and amenities.
"The extension is a contemporary reinterpretation of the original building's Gothic and Gothic Revival detailing, which includes diamond patterning and diaper brickwork," he said.
"We believe our plans represent an attractive and sensitive approach to the local area and it is now for the local authority to decide on whether they can go ahead."