Architect's Lausanne scheme features ring-themed staircase and column-free façade
3XN Architects has revealed on-site images of its under-construction International Olympic Committee headquarters in Switzerland that show the building taking shape and its centrepiece circular staircase, themed on an Olympic ring.
The building, in Lausanne, is a replacement for the IOC's current headquarters and has been created to feature as few structural constraints as possible on its 25,000 sq m site.
3XN won the project in 2014, pipping Toyo Ito, OMA, Amanda Levete and Farshid Moussavi, among other shortlisted practices.
Its Olympic House design has a transparent double glass façade as its hallmark – bringing together a straight inner layer and a curving outer layer in a form seeking to evoke the movement of an athlete.
When complete, the structure will feature an 8m "column-free zone" from the façade into the building.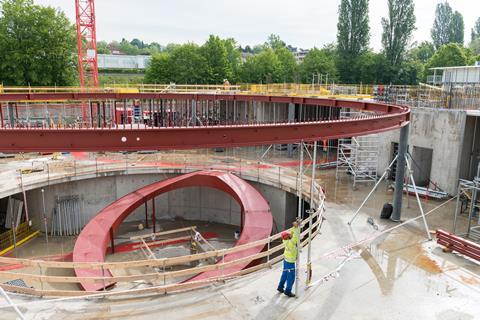 Jan Ammundsen, senior partner and head of design at 3XN, said the building's fully glazed outer skin would draw daylight deep into the structure, while the inner layer's integrated sunscreen would give building users control over their environment while maintaining the outer structure's transparency.
"With its dynamic, undulating façade, the building will appear different from all angles and convey the energy of an athlete in motion," he said.
"This open and flexible environment is meant to adapt for multiple work styles now and in the future."
3XN said the structure, which is scheduled for completion in 2019, would use solar panels to make it self-sufficient in heating, cooling and ventilation terms, while a rainwater harvesting system – coupled with water-saving fittings – would minimise its use of mains water.
The construction team is also "upcycling" concrete from the IOC's former administrative buildings for use in the new structure.