What should I look out for in my clients' bespoke contracts?
What are the main legal issues to consider if my clients insist on their own standard or bespoke contract?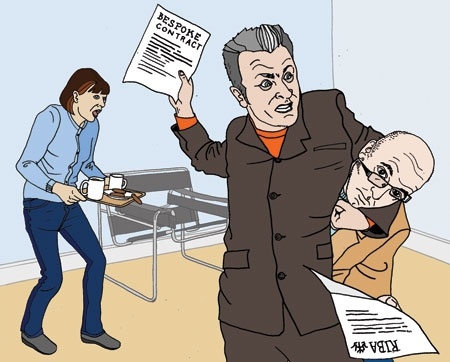 Source: Angela Salt
Question: I rarely have the luxury of using an RIBA Standard Form of Appointment as most of my clients insist I use their own standard or bespoke contract prepared by their lawyers. Each is different, and it takes a lot of time and money to check them with my lawyer and professional indemnity insurer. What can I do about this? And if we must agree to use them, what are the main legal issues to consider before signing?
Answer: First, it is important to negotiate the use of right type of contract.
Both parties have to agree the type and content of appointment contract to use, so you can always refuse to sign anything other than an RIBA Standard Appointment (and some architects do achieve this), but you obviously run the risk of losing the client. Your decision is a matter of professional principle, commercial judgment and negotiating skill.
The professional principles at stake are both statutory and personal. If you are Arb-registered or RIBA-chartered, you are obliged to comply with their codes of professional conduct, which both require that you have a written agreement in place. It can be a bespoke form, but you must be able to fulfil the contractual obligations to which you sign up, including maintaining your insurance cover and having the skills and resources to fulfil these obligations.
For example, your professional indemnity insurance (PII) is unlikely to cover a "fitness for purpose" rather than a "duty of care" type clause in any contract you sign, which would leave you uninsured, contravening the Arb and RIBA codes, and liable for claims of professional misconduct.
Using the limitations of your PII policy can be a useful negotiating tool in changing onerous clauses in bespoke contracts. Clients generally want the protection of your insurance cover, even if they are less concerned about your professional misconduct! RIBA standard forms are agreed with PII underwriters, so this does not arise if you use these forms unadulterated. Before signing, it is always worth getting any bespoke appointment contract approved by your PII broker; indeed, your policy may specifically require this.
Most clients' bespoke contracts are about transferring risk from the client to the architect.
You must decide under what principles you wish to operate your business, and what level of independent professional judgment you want to retain. Commercial judgment is not just about fees, but also what sort of project or client you want, and the level of risk you are prepared to take on.
Bespoke contracts are likely to raise many other commercial issues. For example, under the RIBA Standard Agreement, you retain the copyright, and the client only gets a licence to use your work once the due fees are paid.
Your commercial judgment boils down to three key issues:
1) how much do I want this job?
2) how much am I prepared to do for this client?
3) how much can I charge to do the job and make it worth taking on the contractual risks?
The answer to your question "what can I do about it?" lies in your negotiating skill. Having made your professional and commercial judgments, you now need to negotiate the best contract you can, or at any rate the least worst one you are prepared to sign. I strongly recommend you use the RIBA Standard Appointment form or your own bespoke contract as your standard terms of business. In any initial client proposal or fee bid, state that it is based on your contractual terms but that you may be willing to consider other terms of the client.
This gives you room for negotiation. How far you climb down from your contractual position towards the client's terms is then a matter of your judgment and negotiation. You may be prepared to agree to take on more risk in return for a bigger fee. That is your decision. But in any negotiation, always decide your "bottom line" before you start, and be prepared to walk away if your line is crossed.
Using the limitations of your PII policy can be a useful negotiating tool.

 
You are right to say reviewing and negotiating different bespoke contracts takes a lot of time and effort. Good for legal advisers perhaps, but not for the client or the architect. So this is another reason to encourage clients to use standard forms, which can be adjusted to suit a particular client or project, so saving legal fees and negotiating time.
The RIBA always encourages clients and architects to use RIBA Standard Agreements as these have a legal precedence and provenance, and are finely tuned as a fair balance of the interests of both client and architect. It is also up to the profession to continue to extol the virtues of using standard contracts to clients and their legal advisers. RB
Patrick Perry adds: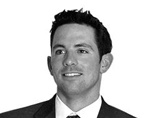 As the appointment is the contract that will govern the relationship between you and the client, it is clearly important that you take the time to review it carefully and consider all the legal issues. You will have to ensure you are comfortable with each of the obligations it seeks to impose, and the remuneration proposed. While every contract may differ in its fine terms, there are some "headline" issues you will want to consider.
First, is the scope for the services set out in the draft appointment as you have agreed with the client? Can the scope of services be varied at all, and if so, are you happy with the mechanism for this, particularly in relation to payment for any additional work?
Does it impose a duty on you to co-ordinate the overall design for the project and/or provide that you will be the lead designer? If so, are you content with such responsibilities?
What you are paid and when are obviously fundamental. Consider what provisions exist for interest on late payments, and whether the client has sought to include a right of set-off against monies owed.
As Richard has said, clients sometimes seek a duty from the architect that they will ensure any designs are "fit for purpose". You should be very wary of such a duty, particularly as it may not be covered by your PII cover.
Another danger area is warrenties. Are you required to provide warranties to any third parties? You will need to check the warranty is acceptable in scope and meets the terms of your PII.
If you are also required to procure warranties from any subconsultants you employ, you will need to ensure that the appointments match up.
Provisions will exist entitling the client to use your designs. You will usually want to retain copyright of your designs and grant the client a licence to use them for the project.
On insurance, ensure your PII cover meets the contract requirements, and that you can obtain cover for the duration required under the contract.
You also need to be comfortable with the circumstances in which the appointment can be terminated by the client, and ensure it makes adequate provision for payment of your fees up to that date. Does either party have the right to suspend or terminate the appointment?
Finally, disputes. Check you are comfortable with the dispute resolution mechanism under the contract, be it litigation, arbitration, or some form of preceding alternative dispute resolution provision. With international clients, be careful of committing to a foreign law or jurisdiction.
Assuming you are not contracting with a residential occupier, the Housing Grants Construction & Regeneration Act should apply to the appointment, and either party will therefore have the right to refer any dispute arising under the contract to adjudication, even if the contract is silent on the point.
The limitations in the appointment will be important in the event of any claim against you. If possible, negotiate a net contribution clause or an overall cap on your liability in the appointment. Try to ensure your overall liability is no greater than your PII cover.
If the appointment is to be executed as a deed, then the client will have 12 years to sue you for any breach arising from it. If it is only "under hand", a six-year limitation will apply. You have the option of seeking to negotiate a shorter limitation period cap, if this is commercially possible.
Postscript:
Disclaimer: This column is for general information only, and is not intended to convey legal advice. It should not be relied on or treated as a substitute for specific legal advice relevant to particular circumstances. Neither BD nor the contributors' employers accept any responsibility for the personal views expressed in this section.