Many have tried and failed to redevelop historic Twyford Abbey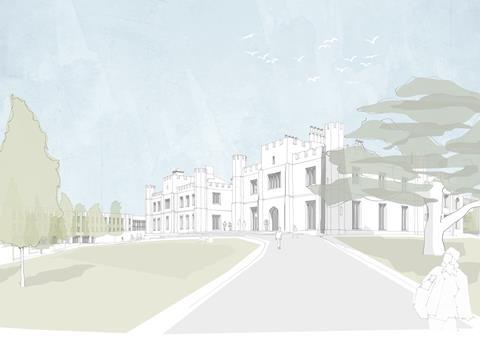 Walters & Cohen has won planning for a new secondary school at a derelict west London abbey which ended up on Historic England's Heritage at Risk register after years of failed planning applications and changes of ownership.
Twyford Abbey is an early 19th-century, grade II-listed gothic revival mansion designed by William Atkinson, the architect of Chequers. It has been empty since 1988 and has gradually fallen into a serious state of dereliction.
About a year ago Walters & Cohen won an invited competition organised by the abbey's new owners to design a secondary school on the site.
It submitted planning and listed building applications to Ealing council in May. The GLA gave Ealing permission to determine the case itself and recommended it for approval, which has now been granted.
Walters & Cohen proposal refurbishes the abbey for administrative and sixth form use, and introduces several new buildings for teaching, sport and dining facilities.
The 54,000sq m of grounds, near the North Circular and Hanger Lane station, will provide opportunities for outdoor learning, making the most of the historic walled garden, green parkland spaces and woodland, said Cindy Walters, director at Walters & Cohen.
She added: "The recent history of Twyford Abbey is dominated by failed planning applications going back almost 30 years, so we are really pleased to have achieved planning and listed building consent for this fascinating and sensitive site.
"The project presents a rare opportunity to design a school from scratch – architecturally and pedagogically – which for Walters & Cohen is a culmination of all our experience and research in education. This is also an exciting chance to bring the historic abbey and surroundings back into use and for us to work with a forward-thinking client."
There is evidence that the site has been occupied since the Domesday Book. The adjacent Church of St Mary, which once served the mediaeval manor house, dates back to the 12th century.
It was known as Twyford Abbey long before a religious order of monks actually moved in, in the early years of the 20th century.