With 82 different exhibitors in attendance at Cersaie 2010, Spanish ceramics had a huge presence in Bologna this year. Leading Spanish manufacturers unveiled their very latest innovations at the show, with decorative surface finishes and an updated colour palette of metallic tones demonstrating the high-precision techniques and creativity at the heart of the industry.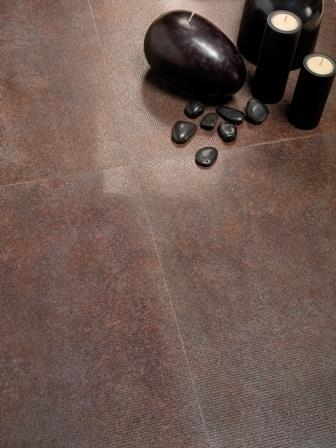 The new inspirational concepts on show at Cersaie have been developed to offer designers and consumers diversity when sourcing surface solutions for interior schemes. One of the overriding trends at the show this year was the application of metallic finishes, with visitors to the exhibition being treated to a more sophisticated range of tones as manufacturers have expanded their offerings.
Apavisa's new Nanoecletic porcelain tile is slim in profile meaning it is versatile, easy to handle and simple to cut and install. The 4.8mm slim tile is available in a smooth cooper finish which offers a softer alternative to classic gold. Echoing the trend, Peronda presented their 'Reflecting in Metal' concept which includes a whole variety of metallic tones. The Mustang tile is a 44x44 format tile which combines metalized oxide with geometric graphics in both semi-rectified and polished finishes. The Avatar tile was developed by Peronda following research into a new metallic product called Lighton which helps enhance the surface finish in order to create dramatic brightness and light changes. Produced in two formats - 44x44 or 45.6x45.6 and four complementary colour ways, Avatar offers shimmering multi-tonal gold and silver finishes for floors.

Tau Cerámica showcased their latest offering Turmali; a high quality porcelain tile which was inspired by tourmaline stone. The surface of the tile provides an iridescent effect which offers a visually stimulating finish that goes beyond traditional tile surface aesthetics. The latest addition to Tau's Metallica collection, Turmali is available in blue, copper and pyrite and has been designed in a large 60x60 format which enhances the sparkling effect of the surface.