Carpenters Wharf offers 'transition' between low-rise sheds and larger new resi, architect says
Studio Egret West has completed a new mixed-use development on the site of a former furniture-maker's business at Fish Island in east London.
The practice said its 44-home Carpenters Wharf scheme – just across the River Lee Navigation from Olympic Park – was designed to be "a high-quality transitional building between the neighbouring low rise sheds and the more recent larger residential projects".
Six storeys tall, the building features an exposed wooden frame, darkened timber cladding and a pitched roof, which Studio Egret West said was designed to echo the character of traditional canalside warehouses of the past.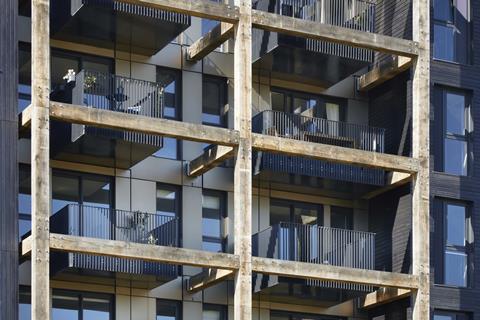 The architect said the design, created for developer Anderson Group, aimed to preserve the well-established artistic community of the area by providing artists' studios and a double-height gallery space at ground level, along with a waterside café and restaurant.
The building has a rooftop communal garden, defined by an un-clad pitched frame, with open views over the canal and the Queen Elizabeth Olympic Park beyond. It occupies the former site of furniture business A Younger.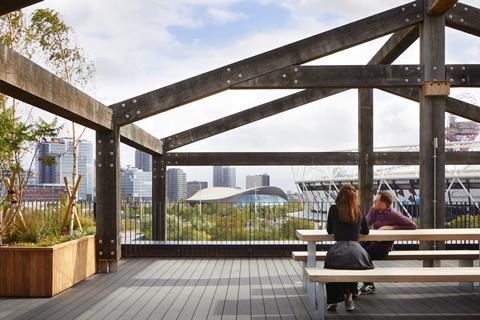 Studio Egret West is part of the design team for new homes at the park's East Wick and Sweetwater neighbourhoods, alongside Astudio and Piercy & Co.