Reworked proposal for huge town-centre development doubles homes but reduces office space
Studio Egret West has lodged new proposals to redevelop a swathe of Maidenhead town centre, three years after it won consent for an earlier incarnation of the scheme.
The latest version of the practice's 1.3ha The Landings development would deliver 519 new homes, 5,230sq m of office space, and 3,400sq m of retail, leisure and public space.
Drawn up for developer Hub and landowner Smedvig, the proposals update an earlier scheme by SEW and Allies & Morrison that was granted outline consent in 2015. That would have provided up to 225 new homes, 34,100sq m of offices, and 4,700sq m of retail, restaurant and bar space on the site.
SEW founding director Cristophe Egret said the new vision – created after Hub became project development manager last year – centred around six buildings that would transform the future of the Berkshire town, providing "a positive street structure" and delivering a new garden square.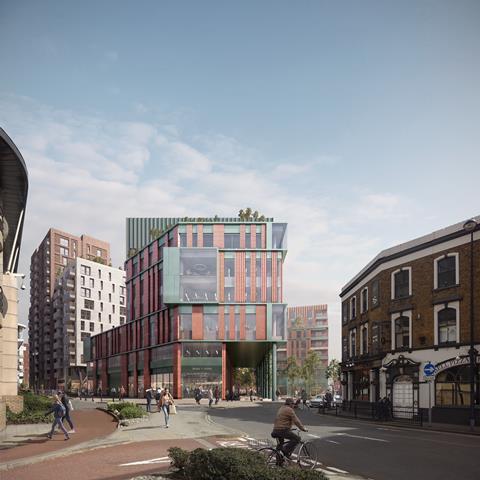 "The scheme provides employment opportunities and new community facilities, while the carefully designed homes provide a chance to live within the town centre, close to the soon-to-open Crossrail link at Maidenhead station," he said.
"Local artist Kirsty Brooks has worked with the design team to ensure the buildings feel rooted in the rich history of the town through material and colour choices, as well as specific art works."
The planning application seeks full permission for the demolition of the existing structures on the site and the first four new buildings that will provide 375 homes, a new office building and 2,195sq m of retail, office, and leisure space.
Outline consent is being sought for the remaining homes and retail, community, and leisure areas.
SEW won a RIBA Competitions contest to design The Landing in 2014; Allies & Morrison was runner-up and was appointed to elements of the project.