Exclusive construction pictures of US architect's first English building
Steven Holl's Maggie's cancer centre is taking shape at Barts Hospital in central London.
It is due to open this November, a year later than predicted when work began last summer.
Holl's three-storey Maggie's Centre, with a garden on top, will be more vertical than most of the charity's centres because of its constrained site in the hospital's historic Smithfield campus.
It has been conceived as a "vessel within a vessel within a vessel", said Holl, with white and coloured matte glass wrapping a layer of perforated bamboo enclosing the branching concrete frame and curving staircase.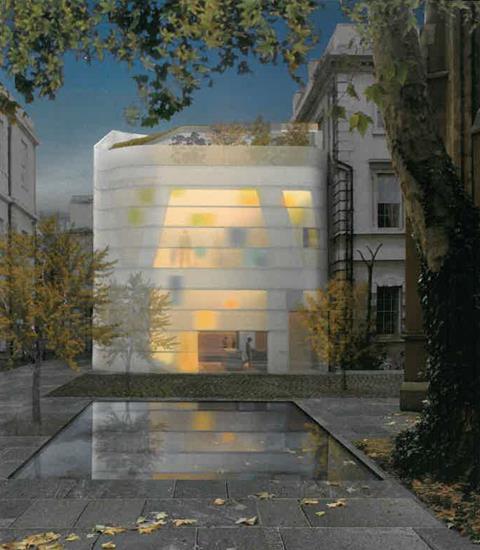 Holl said it would appear like a "glowing lantern" from the outside while the interior would be bathed in coloured light. It replaces an undistinguished 1967 brick finance block.
The scheme, Holl's first building in England, also had a rocky ride before shovels hit the ground 11 months ago.
It took two attempts to get the project through planning – it was finally approved by a single vote in 2014 – and was further delayed by a threatened judicial review by opponents led by the Queen's surgeon, Marcus Setchell.
Their objections centred on the "significant harm" which they argued the new building would cause to the hospital's 18th-century grade I listed Great Hall.
The Friends of the Great Hall – whose patrons include Royal Academy chief Charles Saumarez Smith and the actor Edward Fox – also objected to a related scheme by Donald Insall to provide disabled access to the North Wing in which the Great Hall is situated.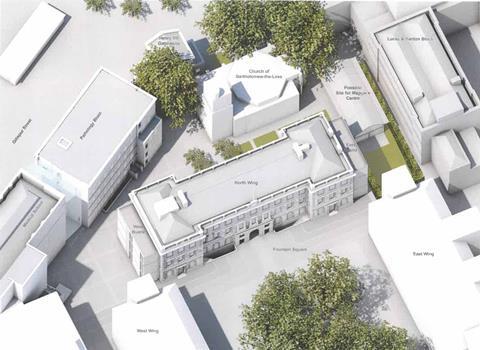 The friends hired Hopkins in 2013 to come up with a rival scheme (illustrated). The practice proposed moving the Maggie's site back from the eastern end of the North Wing by several metres and demolishing the 1970 pathology extension at the western end which was designed by Adams Holden & Pearson. In their place, slim stone extensions at each end would contain circulation and toilets.
All three architects' schemes were consented by the City of London, but in the end a revised version of the Holl/Insall plan prevailed since it had the backing of the hospital trust – the Barts Health NHS Trust.
The new centre will provide facilities in a non-medical environment for the 5,500 people diagnosed with cancer every year in north-east London.