No deal would be 'disaster for UK and put architecture's £4.8bn contribution on the rocks'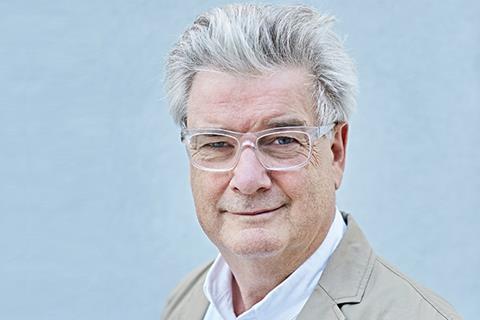 RIBA president Ben Derbyshire has warned the government not to "botch up Brexit" and put architecture's £4.8bn contribution to the economy at risk.
The "no deal" option threatened by some Brexit supporters could result in architecture exports dropping by £73 million a year, he said – some 15% of total exports.
The scenario would be a "disaster", said Derbyshire, who demanded the government rule out leaving the EU without a deal.
A report published today using new economic research commissioned by the RIBA reveals the full value of the profession to UK PLC: £4.8bn a year directly, with a further £1bn a year indirectly.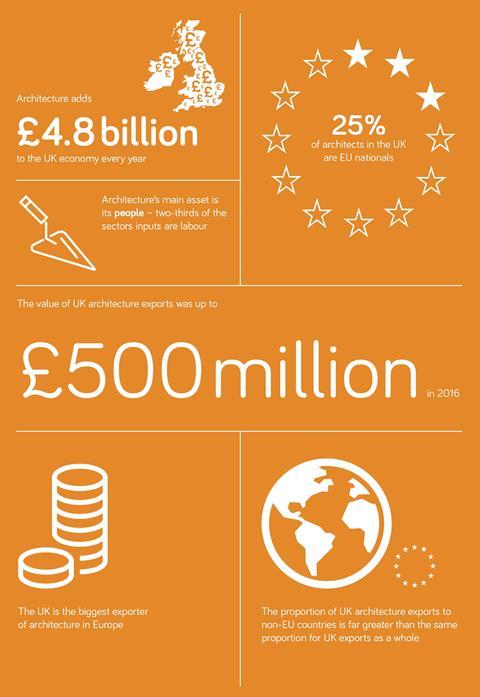 The report, Global Talent, Global Reach, includes an eight-point list of demands (see box), including a post-Brexit immigration system that allows access to the best global talent, mutual recognition of qualifications and a trade agreement with the EU that maintains mutual market access and avoids non-tariff barriers.
It warns that the profession is particularly exposed to changes on the global stage because of its pre-eminent position as an exporter and its reliance on international talent. One in four architects working in the UK are from the EU and their loss would have a significant impact on UK architecture's ability to compete in both EU and non-EU markets, says the report.
But it also lays out the "significant opportunities" that could benefit British architecture if post-Brexit trade deals can be struck with new partners.
A services trade agreement with the likes of China, the USA, India and the UAE could yield minimum returns of £54m in its first year, setting the stage for further growth of the sector in new markets, says the report, written by Frontier Economics.
"British architecture practices work around the world, producing transformative and technologically advanced buildings that improve the lives of their occupants and communities. They excel in exporting design excellence across the world," said Derbyshire. He name-checked buildings on four continents by Foster, Hadid, Rogers and McAslan.
"Without a Brexit deal that works for UK architecture we risk losing more of our global talent due to increased costs and economic uncertainty.
"A no deal Brexit is not an option; it would be a disaster for UK architecture and our built environment, and the government must take this option off the table."
This means remaining open to the best talent from around the world and a new trade relationship with the EU and the rest of the world, he said.
"Anything less will lead to a skills exodus, higher costs across the industry and the failure to deliver domestic policies on housing, infrastructure and the industrial strategy all of which rely on our being open for business to international design talent," he added.
The RIBA's report comes as a Home Builders Federation (HBF) survey earlier this week revealed that EU workers on housing sites represent 17.1% of the workforce across the UK and almost 50% on sites in London.
RIBA's demands
A blueprint for global success
1. A post-Brexit immigration system which continues to allow businesses to access the best global talent from the EU and the rest of the world.
2. Continued mutual recognition of architects' professional qualifications with the EU.
3. New mutual recognition agreements for architects in other large markets to support UK architectural exports.
4. New trade agreements with large markets that include trade in services and mutual recognition of professional qualifications.
5. A Brexit deal with the EU which enables UK business and academic institutions to continue to participate in pan-EU research projects.
6. Additional support for research and innovation through grants and tax incentives when EU state aid rules no longer apply.
7. A trade agreement with the European Union that maintains mutual market access and avoids non-tariff barriers.
8. Expanded export support and advice for small businesses, to support more small and medium-sized architecture practices to expand internationally.
Source: RIBA
Postscript
Download the full report here