Southbank Centre says it needs the rent to pay for cultural activities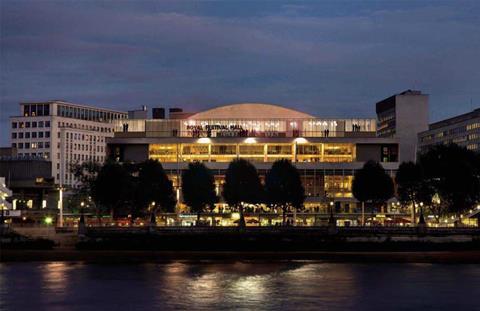 Interior architecture practice Tibbatts Abel has submitted plans to build a temporary restaurant on the roof of the Royal Festival Hall.
The proposal, the latest in the expanding chain of Pergola roof bars, has triggered an uproar among conservationists who object to the "shocking and insensitive" way it would conceal the projecting curved roof of the grade I building.
The application to Lambeth council comes just weeks after the Southbank Centre was criticised for applying for a certificate of immunity from listing for the neighbouring Hayward Gallery and Queen Elizabeth Hall – after they were turned down for protection for the fourth time. It also comes in the wake of the institution's failed attempt to build Feilden Clegg Bradley Studios' liner scheme.
Tibbatts Abel's proposal is for a 4.9m tall polycarbonate structure with a 686sq m footprint on the Thames-side edge of the roof. Metal stairs, a lift and a safety balustrade are all part of the application for the Incipio Group.
The restaurant, with capacity for 220, would be in place for three years before being dismantled and replaced by decking and a guardrail so the Southbank Centre can use it as a stage for open air events.
The Southbank Centre said the money-making venture was a "significant and increasingly essential revenue opportunity" for activities which might otherwise remain unachievable.
It said temporary "folly" structures had played a "vital role" over the decades at the Festival Hall and its neighbours, including David Kohn's "Room for London" and The Cube in 2012 by Park Associati.
But the Twentieth Century Society, which said its advice at an early stage in the process had been ignored, objected "in the strongest possible terms"
Grace Etherington, C20 caseworker, said: "The proposed Pergola-branded restaurant would greatly obscure views of the building's 'egg in a box' concept, and will dominate far-ranging views of the building, especially from the north bank of the Thames, and the Hungerford Bridge.
"It is a landmark building and the riverside frontage is fundamental to its significance. This is certainly not the right location for an off-the-peg design.
"In a bid to show precedence, the applicant is making inappropriate comparisons to previous neighbouring pavilions, such as the 2012 pod restaurant at RFH, and the 2011-16 'Room for London' at Queen Elizabeth Hall. These were significantly smaller in size, and clearly distinct from their host building. The Room for London had a footprint of just 7.5sqm, and its design chosen by an international architectural competition. These proposals have not undergone a comparable level of scrutiny, which is visible in the disregard for the style and scale of the Grade I listed building, and the poor quality of the proposed Pergola design.
"The applicants have chosen transparent polycarbonate for the walls and roof, citing transparency and lightness to minimise impact. Their claim that it will be more or less invisible is undermined by the fact that they acknowledge that they will need to replicate the iconic 'Royal Festival Hall' signage on the exterior of the new structure, as it will block the original."
Tibbatts Abel said: "The proposed pavilion 'Pergola on the River' would temporarily create a new asset to the Royal Festival Hall, attracting a renewed appreciation of the modernist masterpiece and inviting visitors to visit an elevated riverside location to enjoy the spectacular views, complementing the lower terrace and riverside dining experiences."