Bid to retain heritage status contains significant loopholes
A package of measures designed stop Liverpool's historic waterfront from being stripped of its World Heritage status appears likely to offer significant get-out clauses for planners keen to approve new tall buildings, it has emerged.
Members of Liverpool council's cabinet gave their backing to a draft action plan which is intended to dissuade global heritage champion Unesco from removing the city's status over fears about new buildings related to the £5.5bn Liverpool Waters development.
But despite pledging to introduce new controls on the height of buildings as part of a "skyline" policy, the document accepts that exceptions can be made to whatever level heights are eventually set at - bringing its value into question.
The city has recently approved a range of new high-rise buildings, prompting concerns from Unesco – both in the 60 hectares of former docklands that make up the Liverpool Waters footprint and in the wider buffer zone around the World Heritage Site. Two of the schemes identified in the action plan are by the practice Falconer Chester Hall.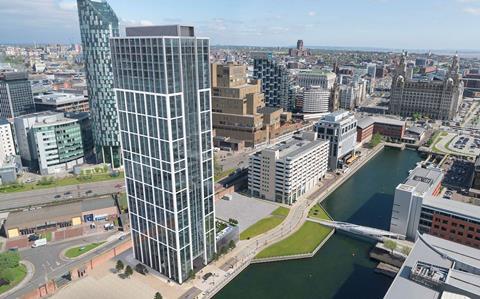 Last summer Unesco warned it would consider revoking Liverpool's heritage status this year unless steps were taken to better safeguard its WHS assets, which include the city's "Three Graces": the grade I-listed Royal Liver Building, and the Cunard and Port of Liverpool buildings, both grade II*.
The watchdog urged central government and the city council to work together to create a development framework that ensured the city's built heritage was not compromised and a change of course was achieved.
In addition to the skyline pledge, the new draft protection proposals – named the "Desired State of Conservation Report" (DSOCR) – contain an assurance that there is "no likelihood" of Liverpool Waters developer Peel Holdings seeking to build out the project's Chapman Taylor masterplan for the development, which was given outline planning consent by the city council in 2012, and which is a thorn in Unesco's side.
"Peel Holdings is undertaking a comprehensive review of the scheme and drawing up new masterplans taking full account of heritage considerations including all recorded commentary by the World Heritage Committee," it says.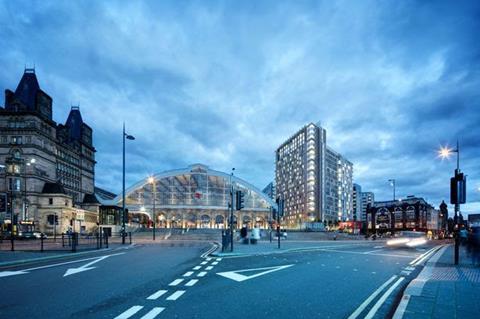 The DSOCR also proposes the creation of a new Liverpool World Heritage Trust to strengthen the management of the city's heritage property by bringing together stakeholders and to "consider" an extension of the city's World Heritage Site boundary by 2025.
Liverpool's elected mayor Joe Anderson said the document underscored a collaborative approach that would "ensure Liverpool's World Heritage Status is secured" when Unesco meets to consider the issue in July.
But it was unclear whether a supplementary planning document outlining the city's tall buildings policy would be ready by then, as a published timeline only indicates "2018" as its target delivery date.
Meanwhile, a section of the DSOCR states: "Some individual buildings might break [the] height threshold but will nonetheless reflect historic elements."
Architect Barbara Weiss, who campaigns on issues related to the proliferation of tall buildings in London, and who has taken an interest in Liverpool's predicament, said that while steps to protect the World Heritage Site had to be commended, the city's primary concerns appeared suspect.
"It just seems like it's normal these days for cities to want to be seen to be doing the right thing at the same time as leaving themselves enough breadth to do anything they think they need to in terms of approving new development," she said.
"In terms of Liverpool documents, there's an emphasis on heritage and protection, but there's absolutely no guarantee that this is going to have an effect.
"It's not so much about tall buildings as approach to development, and Liverpool seems to be looking to places like Shanghai as a role model."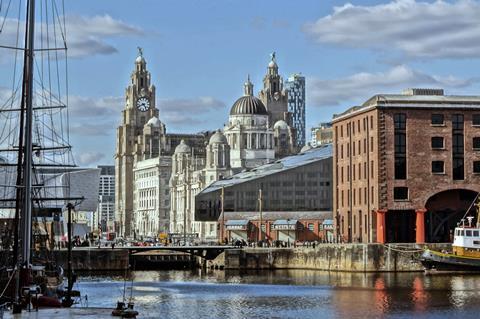 BD asked Peel for details of the extent to which it was re-masterplanning elements of Liverpool Waters, and whether this could extend to revisiting parts of the project that already have full planning consent.
It declined to comment, other than to say that its proposals for the Central Dock areas were being re-examined and changes made.
Liverpool council told BD it would now be working with the Department for Digital, Culture, Media and Sport and government heritage adviser Historic England to firm up its proposals for consideration by Unesco's World Heritage Committee and advisory body the International Council on Monuments and Sites (Icomos).
The Falconer Chester Hall buildings that Unesco raised fears about were its 34-storey private rented sector tower for Moda Living, approved for a site at Princes Dock, and a 22-storey student accommodation development for Unite Students, near Lime Street Station in the World Heritage Site buffer zone.