Innovative design allows separate occupiers to share services but remain independent
Penoyre & Prasad has secured planning permission for a Z-shaped school building designed to allow to separate academic bodies to share a west London site and core services, but maintain their own identities.
Its proposals for Barlby New Schools in North Kensington deliver a new three-storey 6,000sq m building that will house a primary school and a school for children with severe learning difficulties on the same site.
Both schools will have their own entrances, playgrounds and classrooms, but both will have access to the other's school hall. They will also benefit from large roof terraces, and direct access to secure outdoor play areas.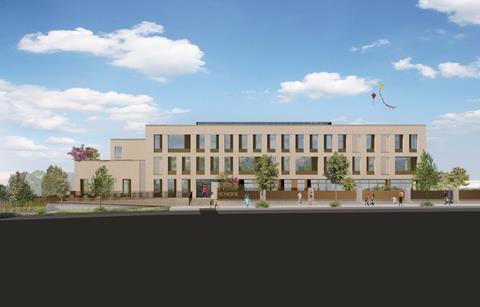 Penoyre & Prasad partner Gillian Horn said the practice had paid particular regard to the needs of pupils with sensory-perception issues when it selected the building's palette of external materials, while its interior design had also been created to avoid visual conditions that worked poorly for children with autistic spectrum condition.
"The Barlby New Schools project provides an exciting opportunity to engage with Kensington and Chelsea, the schools and the children to develop beautiful, new inspirational learning spaces to meet current and future educational need," she said.
The new building will be constructed on the site of the existing Barlby Primary School, near Ladbroke Grove, and will be run by Kensington and Chelsea council.
Penoyre & Prasad is one of the six practices working on proposals to regenerate the Lancaster West Estate, which is less than a mile away from Barlby Primary School, following the Grenfell Tower tragedy.