In & Out Club on Piccadilly has lain empty for 20 years after previous Aukett scheme failed
PDP London has won planning permission to turn the former In & Out Club and other listed buildings on Piccadilly into a hotel plus seven flats.
The In & Out – a nickname it earnt from the words on its gateposts – is grade I listed but has lain empty for 20 years.
Officially called Cambridge House, 94 Piccadilly was home to Lord Palmerston while he was prime minister. It later became the Naval & Military Club but this moved to St James' Square in the late 1990s.
Built in 1764, it is said to be a rare example of an "hôtel particulier", a formal architectural set-piece arrangement typical of 17th-century French design, where the house is set back from the street and is fronted by a private courtyard.
PDP – formerly Paul Davis & Partners – was appointed by Tower Properties Management to submit proposals for Cambridge House and its grade II-listed neighbours, 90-93 and 95 Piccadilly, as well as for the properties at 42 Half Moon Street, 10-12 White Horse Street and 12 Shepherd Market.
As well as refurbishing the existing buildings and creating four basements levels, there will be an equal quantity of new build.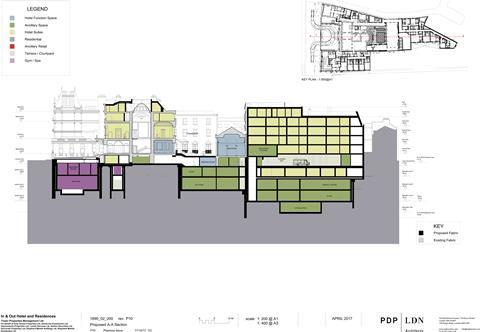 The enfilade of rooms in Cambridge House's piano nobile – including Palmerston's octagonal study – will be accessible to the public on Open House weekend.
Donald Insall Associates is historic buildings consultant.
Detailed design and enabling works will begin in the new year.
Aukett Swanke previously worked on a proposal for the In & Out in 2005 but was mothballed two years later after a string of planning delays.
Then known as Aukett Fitzroy Robinson, it had to take client Simon Halabi to court in 2010 over unpaid fees. Halabi, the property tycoon who was first to back Renzo Piano's Shard, was later declared bankrupt.