Rail boss eyes St Pancras-style transformation for Europe's busiest station
France's national rail operator and the mayor of Paris have outlined plans to transform the city's Gare du Nord railway station, trebling its size to accommodate predicted long-term passenger growth, the arrival of the 2024 Olympic Games - and Brexit.
Led by architect Denis Valode – of the Valode & Pistre practice, in conjunction with SNCF's own in-house architects, the proposals will see a new station facade added to the Rue Faubourg Saint-Denis and the construction of an 18m tall and 300m wide departure hall.
SNCF said the massive hall would reinterpret the 19th-century Haussmanian concept of the "passage Parisien", while the station's Eurostar terminal would be expanded to help it cope with what SNCF described as "the challenges of reinforced border controls due to Brexit".
The rail company said there would also be a five-fold increase in the amount of space for shops and services, with plans for the creation of restaurants to serve gastronomic French food at rooftop level offering diners spectacular views of historic monuments and neighourhoods. The plans also include a 1km rooftop running track and co-working space.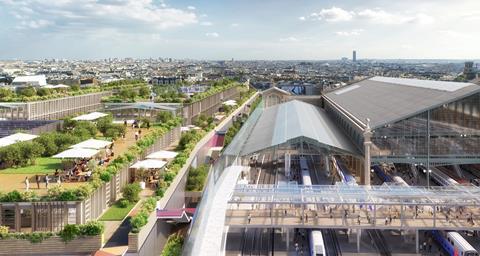 SNCF said the project was similar in size to architect Jacques Ignace Hittorff's creation of the station as it appears today in the 1860s.
SNCF president Guillaume Pepy said the project underscored the operator's "strong" ambitions for the station.
"The new Paris Gare du Nord, which will open to the public by mid-2023, will resemble in many ways St Pancras station in London," he said.
"The project involves a large number of experts from the SNCF team and represents a major advancement for 700,000 daily commuters and high speed rail passengers transiting through the largest European train station".
t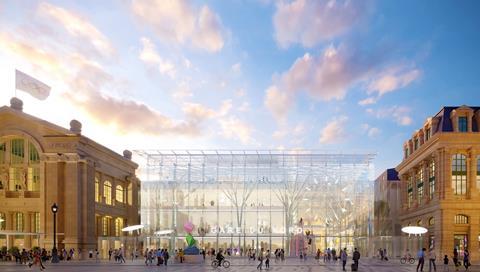 Paris mayor Anne Hidalgo said the expanded station would both better host visitors to the city and improve the quality of life for local residents.
"Paris Gare du Nord station will become a shared space with a bustling, lively community," she said.
SNCF predicted footfall at Gare du Nord would rise to 800,000 people a day by 2024, and 900,000 by 2030, driven in part by the opening of new lines from the terminus – such as the RER E line to the west of Paris.
Retail developer Ceetrus is also a major player in the proposals.