Artist's home in Lagos includes gallery and studio space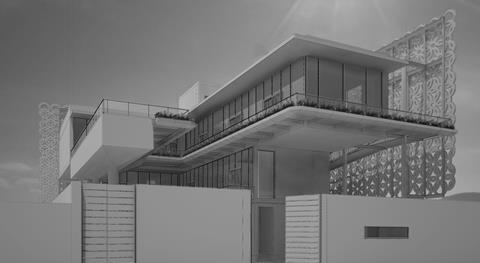 Elsie Owusu Architects has revealed its design for a new home, studio and gallery for the artist Yinka Shonibare.
The project, in the Nigerian city of Lagos, where Shonibare grew up, is due to start on site in September.
The practice, founded by one of the three contenders to be the next president of the RIBA, was commissioned to design a barrier-free building in a city known for high crime levels.
The project will include a home for the artist who was responsible for the giant ship in a bottle on Trafalgar Square's Fourth Plinth, as well as studios for visiting artists, a courtyard performance space, jewellery studio and supporting facilities.
It was designed by a team of 20 architects, engineers and sustainability consultants based in London, Lagos and Tirana, said Owusu.
"The new building will provide beautiful spaces for the inspiring work of artists-in-residence, and welcoming domestic and performance spaces," she said.
"The low-energy sustainable design includes off-grid and solar power, biodigesters and rainwater re-cycling."
Shonibare has run a project space for artists residences at his London studio for 10 years.
He said: "As an artist of African origin, I have felt very keenly for some time the importance of creating a space for cultural exchange on the continent of Africa too."
He added: "The brief is also to make an environmentally sustainable building and a fully accessible building as I am a wheelchair user.
"From our various conversations, we were inspired by the use of ramps in Le Corbusier's modernist Villa Savoye and the use of the courtyard in traditional Yoruba architecture.
"I am very pleased with Elsie's imaginative solutions. A concrete screen based on my design cleverly conceals a functional ramp, which doubles as a library for my book collection.
"This building transcends its function. It stands for the ideals of cultural exchange and maximises the cultural potential between creative minds in Lagos, Nigeria and the rest of the world."