Work on cylindrical building will ease pedestrian pinch point
Orms has been given planning permission for a public realm scheme in the City of London that involves updating an existing cylindrical building so it can be used as a marketing suite for the Broadgate Estate.
Work at 3 Broadgate is due to start at the end of this year and be completed in 2018.
The building was put up 30 years ago and sits on a thoroughfare between Broadgate Circle and Finsbury Avenue Square, squeezing the pedestrian flow.
The proposal is to retain the cylindrical form of the three-storey building, re-clad the façade and insert a larger arched opening that aims to create better visual links and increase permeability through the space.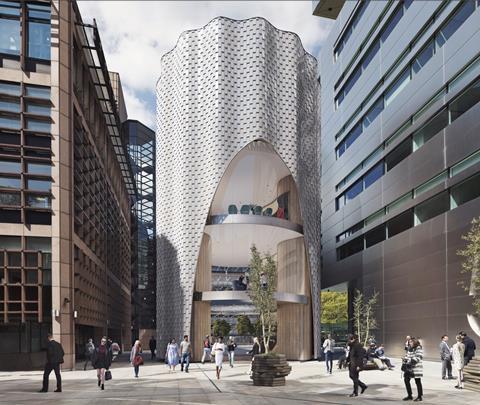 The revamp is part of the wider work at the Broadgate Estate near Liverpool Street station which has included Make 5 Broadgate building.
Developer British Land said the arch design of the Orms scheme is intended to encourage some of the estimated 150,000 people who use the route daily to walk through the building rather than around it.
Earlier this summer, work started on another Orms project – a hotel and 800-seat venue and events space building behind London's world-famous Tin Pan Alley music hotspot on Denmark Street.