Attitudes have shifted irrevocably in favour in conservation and retrofit, writes Henrietta Billings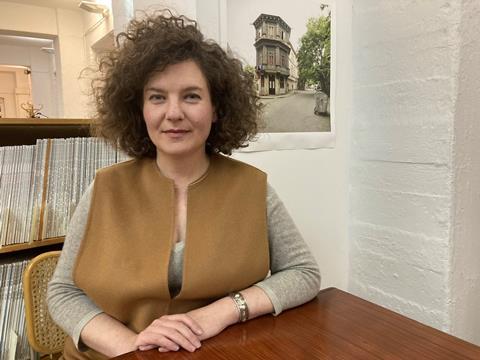 The M&S result is a landmark decision. It's the first time that heritage, and the environmental consequences of demolition and rebuild have been scrutinised at a public inquiry, and it marks a major flashpoint in a wider debate over the construction industry's role in decarbonising the UK economy.
Secretary of State Michael Gove accepted our arguments that M&S did not fully explore alternatives to demolition, or demonstrate that a refurbishment would "not be deliverable or viable". He stated that the proposed development would fail to support the UK's ambitions to transition to a low carbon future and "would overall fail to encourage the reuse of existing resources, including the conversion of existing buildings".
This decision will send ripple effects through the planning system – encouraging developers to think creatively about buildings they already own, and to fully explore re-use alternatives to demolition and re-build from the start. It will enable more councils to bring forward rigorous policy on retention and retrofit – like we are already seeing in some London boroughs. This is a significant moment and we salute the Secretary of State.
Why does this matter? The buildings and construction sector is responsible for about 40 per cent of UK carbon emissions, we lose more than 50,000 buildings a year by demolition, and construction is far more carbon-intensive than refurbishment.
According to Arup, M&S's own heritage consultants, the construction of the proposed new M&S building was expected to release just under 40,000 tonnes of CO2 into the atmosphere. Carbon emissions released today have a larger environmental impact compared to those released in the future, such as through a building's ongoing use.
The process to get this far has been long and expensive and we argue strongly that this case should have been rebuffed at pre-app stage
This is because today's emissions are in the atmosphere and contributing to global warming for longer. Therefore, the immediate upfront carbon release through major demolition and re-build of the proposed scheme is particularly damaging.
Working with our three expert witnesses at the inquiry, sustainability and carbon expert Simon Sturgis, engineer and sustainability consultant Dr Julie Godefroy and planner and urban designer Alec Forshaw, we have used this campaign to drill down into the environmental costs of demolition, and press home the well coined phrase, 'the greenest building is the one that already exists', a message that fits hand in glove with our work to save historic buildings from unnecessary and wasteful loss.
Over our almost 50 year history, we've shown time and time again how with imagination and determination you can inject new life into these buildings so that future generations can enjoy them.
And we've had some fantastic support along the way. Leading figures in the worlds of architecture, property, heritage and the arts backed our campaign including: Julia Barfield, designer of the London Eye, Stirling Prize winner Steve Tompkins, and architects Sarah Wigglesworth, Rab Bennetts, Ian Ritchie and Peter Barber, academics Dr Lesley Lokko and Dr Alice Moncaster, TV personalities Kevin McCloud and Griff Rhys Jones, writer Bill Bryson, Will Arnold head of climate change action at the Institute of Structural Engineers; architectural historians Andrew Saint, Alan Powers and Barnabas Calder and developers Jacob Loftus of General Projects, Tyler Goodwin of Seaforth Land and Basil Demeroutis of Fore Partnership among others, and many gave statements to the public inquiry.
>> Also read: 'In some ways it's not even about retrofit'
Like the fierce battles SAVE won at public inquiry to save 400 houses in Toxteth in Liverpool – or to oppose the 20 storey tower proposals for the city centre conservation area in Norwich – there's no doubt that these rebuffs have ended in immeasurably better schemes. In Liverpool the terraced houses were saved, and have been upgraded and adapted as family homes, and in Anglia Square the developer Weston Homes submitted a new scheme – without the 20 storey tower. Take Smithfield Market – another major win at public inquiry for SAVE – the Victorian building now being transformed and repurposed as the new home of the Museum of London.
The process to get this far has been long and expensive and we argue strongly that this case should have been rebuffed at pre-app stage – let alone planning committee – saving all sides incalculable time and money. As Simon Sturgis points out, if Marks and Spencer had gone for a retro fit scheme in 2018 instead of a demolition one, the building could have been already repurposed, let and making money by now.
There's no doubt the dial on the automatic acceptability of demolition and rebuild has moved since M&S developed their brief for the site. Local authorities and architects are telling us that they have seen a noticeable increase in retrofit enquires for commercial buildings, and we are hearing from developers that that's what their clients want – places with character and identity, and buildings that fit with their environmental values. The knock it down and start from scratch approach is already out of date.
But M&S still have a major retrofit card to play. Why not bring together architects, developers and planners to come up with a market leading sustainable repurposed building? Retro fit this landmark asset and save 40,000 tonnes of C02. There's still time to be on the right side of history.
>> Also read: It's time to move the net zero debate beyond 'retrofit' versus 'new build'
>> Also read: Is the M&S decision the start of a new era, or a fig leaf to conceal government backsliding on net zero?
Postscript
Henrietta Billings MRTPI is director of SAVE Britain's Heritage