A converted warehouse in Rotherhithe gives a glimpse of how that might work, says Julia Park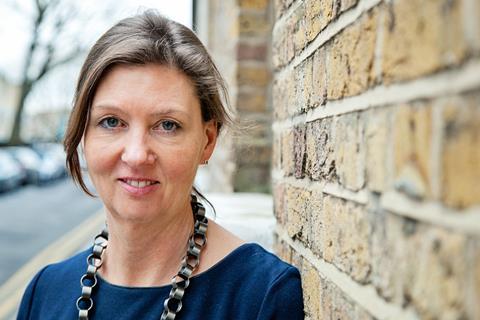 It's a tough time to be architect. Covid hasn't helped, but I'm thinking specifically of our responsibility to mitigate the climate emergency. We all understand the need for change, but to make that change a reality the construction industry has much more work to do than most within it are prepared to admit.
Brownfield sites are invariably seen as more sustainable than greenfield. Where these comprise existing buildings, the conversation between developers and planners must rapidly move from "How much can we demolish?" to "How much can we retain?" This huge culture shift will be made more difficult by the fact that viability invariably demands a design to yield significantly more floor area than existed before. If we retain and reuse existing structures, another site will be needed to make up the shortfall. If that is also brownfield, the cycle will continue.
Land prices will eventually adjust but, until they do, planners must be supported to hold their nerve and insist that demolition will be contemplated only where all other avenues have been explored and shown to have failed. I have no doubt that architects will rise to the challenge of "retain and reuse", but it may not be easy.
When it comes to new-build, we must accept that less really is more. As the LETI guide spells out, keeping the building envelope simple and compact by avoiding overhangs, setbacks and extrusions is critical. For architects like Peter Barber (whose housing I generally admire) this is going to be tough.
The glossy journals must take more responsibility too. They frequently publish well-informed, often hard-hitting articles about tackling the climate emergency. But all too often the same edition showcases new, award-winning schemes with highly articulated buildings, gravity-defying sections, huge windows, deep cantilevered balconies and brick soffits, comprised of materials and components that have travelled much too far. No mention of embodied carbon, the circular economy or designing for a 200-year life.
Early obsolescence is incredibly wasteful
Early obsolescence is incredibly wasteful. No current practice can reflect on a 200-year-old project of its own, but we are all familiar with buildings that have already lasted centuries – churches and almshouses among them. I've always believed that the longevity of almshouses is largely due to the exquisite craftsmanship which not only makes these buildings robust in physical terms but also sends a clear signal that its occupants are valued.
Other old buildings have been given new life through a change of use. Brandrams Wharf in Rotherhithe, a robust, four-storey building with arched windows and polychromatic brickwork, was built as a warehouse. Many years later, following a severe fire, a co-operative formed by a group of local volunteers were given a grant by the GLA to buy the site and convert the building to housing.
Levitt Bernstein was appointed as the architect, and work began in 1984. I joined the practice three years later and remember admiring the simple ingenuity of the conversion, which restored the outside to almost its former glory while completely remodelling the inside. The small, naturally ventilated atrium inserted to give access to the flats and the shared roof garden continues to be the heart of its unique community.
This building came to mind because we were recently contacted by one of its current residents. Martina has lived in Brandrams Wharf for 10 years and is researching the experiences of people living in co-operative or co-living arrangements with Newcastle University. She wondered whether we had any early photos or drawings of the building and shared some thoughts about the design and the co-operative.
A fascinating conversation began. I was shocked to learn that the accommodation has always been restricted to singles or couples with no children. But Martina explained that the policy was well motivated. At the time (and not much has changed since then), single people who couldn't afford to buy a home, or pay market rent, would have fallen through the cracks of the council's housing policies without initiatives like this. Not unreasonably, the co-operative assumed that if children did come along, those new families would be rehoused by the council. Ever-growing pressures on local budgets made that increasingly unlikely and, today, the majority of residents are single women.
We managed to track down some early photos and sent them to Martina, who reciprocated by forwarding new shots taken from the same spots (see attached pdf). She told us that she and her neighbours feel that "the architecture encourages interaction, on the landings and in the common spaces … and sustained them during the covid lockdowns".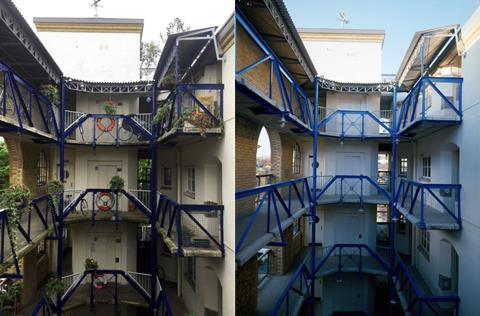 Brandrams Wharf has become home to tens, or perhaps hundreds, of people. It's not quite 200 years old but will almost certainly reach that milestone. The fact that it has adapted so well to a completely new use in a reasonably carbon-friendly way is impressive, given that climate change wasn't on anyone's mind in the mid-1800s or even in the 1980s. It owes its long life to its riverside location, its simple, well-proportioned form, high-quality materials (probably sourced locally), the high quality of workmanship, and the imaginative approach taken by David Levitt and his talented team.
The Brandram Brothers only set out to build a warehouse, but in doing so they made a part of London. The building has proved to be both durable and adaptable; it will have enriched the lives of those who worked in it and is now enriching the lives of those for whom it is home. Examples like this make the 200-year life feel achievable.
Martina suggests that sustainable design means embarking on a form of future collaboration with successive generations of (unknown) building users
I have so far referred to Martina as a "resident", but she rightly sees herself as a stakeholder. Her stake is not monetary, but the collective responsibility she feels for a building she loves, and which will continue to need her help. Pointing out that durability and adaptability are not always compatible objectives, she suggests that sustainable design means embarking on a form of future collaboration with successive generations of (unknown) building users. I hadn't thought about it in that way, but I think she's right. Many architects have "declared"; we now need to show that we are really starting to understand what that entails. Buildings like Brandrams, and conversations with people like Martina, will help us do that.
Martina also sent us a link to the trailer for the film Songs for the River – a beautiful feature documentary about life at Brandrams Wharf during lockdown. Made by Charlotte Ginsborg, one of Martina's neighbours, the full film will be screened at the Curzon, Bloomsbury at 18.30 on Wednesday 23 March.
Postscript
Julia Park is head of housing research at Levitt Bernstein