This terrible war is nothing short of a human and environmental catastrophe. But, if we get it right, the eventual rebuilding of Ukraine could yet provide a legacy of which future generations can be proud, says Julia Park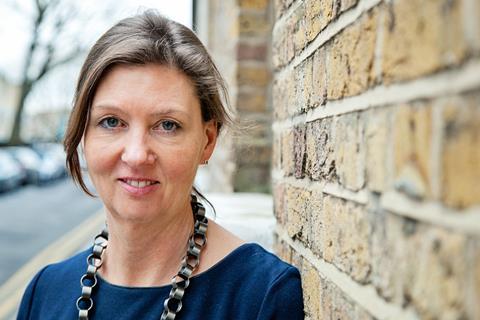 It is difficult at the moment not be completely preoccupied with the unrelenting horror of the war in Ukraine. It goes without saying that the loss of lives is the worst element of it all, but the mass displacement of people and the severing of families is also traumatic, as is the destruction of what appear to have been interesting, and often beautiful, towns and cities in a country that I know little about. These are places evidently loved by their remarkably resilient citizens.
The war is, of course, an environmental disaster too. We know how lethal embodied carbon is and that today's conventional ways of building rely on unsustainable techniques and materials – particularly steel and concrete. So far, there is no sign of that changing in any cities that I know, including London, largely because – barring a few exceptions – we have only ever built taller and denser and that limits our options.
With the latest dire predictions from the UN's intergovernmental panel on climate change suggesting that it is almost too late to limit the damage caused by global warming, the re-building of the worst-hit districts of Ukraine must somehow become an opportunity to do things differently. I hesitate to say this because it could sound insensitive, but get it right and it might even save more lives than those that are lost in the war.
They will, of course, be the lives of people in parts of the world which are almost at sea level now. And this is no consolation to the displaced Ukrainian families just trying to find a safe place to sleep. But it is – hopefully – a legacy that future generations can be proud of.
Ukraine will need a lot of help to rebuild and, while the pressure to build back quickly will be immense, it is so important to take the time, resources, cash and political will that it needs to do it well. I hope that we and other Nato members give generously over a prolonged period, but – on top of the growing cost of the military spending and mounting pressures at home – I fear that may not happen.
One of the many incidental things that has struck me during the war so far is that basements seem to be ubiquitous in apartment buildings in Ukraine. They appear to have saved hundreds, or maybe even thousands, of lives and, however basic, have allowed people to face the terrifying ordeal together.
Basements are common in many parts of western Europe but not in the UK. Think how much of the coveted ground floor could be reclaimed for active uses if we routinely put plant, waste and recycling, cycles and other storage below ground. And yet the only basements we get here are under the mansions in London's leafiest and most expensive streets. Some of which are owned by Russian oligarchs no doubt.
We should never forget that our potential contribution to the world is still enormous, and we should never underestimate the difference that good urban design, architecture and landscape make to people's lives
At the human level, I am in awe of the way that aid workers manage to mobilise in emergencies, and the ability of medical professionals to adapt to the situations and conditions that they find themselves in. As architects our lives are rarely threatened by our work, but we are often under time pressure and getting buildings built is not getting any easier.
We should never forget that our potential contribution to the world is still enormous, and we should never underestimate the difference that good urban design, architecture and landscape make to people's lives, nor the role that we can play in mitigating climate change.
As this is my final column before I retire from my role as head of housing research at Levitt Bernstein, I thought I might end on a personal note: it was my art teacher who first mentioned that I might like to be an architect. She could see that I could draw and paint but leant towards the safety of precision rather than the uncertainty of experimentation. As no one ever suggested a different career, I took her advice and persevered despite experiencing imposter syndrome for the first year of university and many times since.
I chose to specialise in housing early on in my career and was fortunate to have found Levitt Bernstein, a relaxed and enlightened "left-leaning", multi-disciplinary practice that has always valued its staff and produced great work. Soon after the birth of our second child we decided to move to Gloucestershire. Levitt and Bernstein both invited me to undertake work from my new home if, and when, I was ready.
This was 30 years ago (before fax machines, let alone personal computers) but I was soon posting rolled-up water-coloured presentation drawings to the office on a regular basis. The work increased over the years and the practice supported me when I wanted to set off on a different tack that has involved mostly thinking and writing; much of it related to housing policy.
I have loved it all, but it feels like the right time to stop work and to concentrate on what may prove the most challenging housing project so far; finding a new contemporary, smallish, zero-carbon home for a couple of ageing architects has proved impossible so far.
It does not say much about our cultural values nor our commitment to climate change that the vast majority of new homes are still remarkably similar to the instantly forgettable house that my parents moved to about 40 years ago, just with slightly thicker walls and a slightly bigger loo.
Culling the stuff that we have accumulated over the past 30 years is painful too, but ultimately, I am told, cathartic. Today's difficult question to myself is, can I live without my drawing board? My answer, probably not.
Postscript
Julia Park is head of housing research at Levitt Bernstein