Practice will create new arts centre in former community college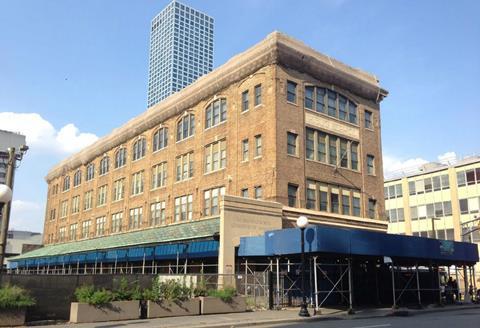 The New York office of Rem Koolhaas' OMA practice has been chosen to transform a former community college building in New Jersey into a new city museum dedicated to visual arts.
Led by partner Jason Long, the OMA team – in conjunction with consultant AEA – will deliver more than 5,100sq m of new arts space in the Pathside Building on Journal Square, the Jersey City Redevelopment Agency said.
Jersey City mayor Steven Fulop said OMA and its AMO division had "proven their expertise in museum development" with projects such as the Wyly Theater in Dallas, Seattle Central Library, the Faena Forum, and a new extension to the National Museum of Quebec in Quebec City.
"I am confident that they will help us define our vision for a space that will become a destination for artists and visitors alike," he said.
OMA's Long said Journal Square was historically a cultural centre as well as a transportation hub and that the project would contribute to raising the profile of its previous use.
"At a time where museums are increasingly serving as dynamic spaces that engage both local communities and global audiences, we are looking forward to working with the mayor to transform the Pathside Building into a catalyst for Jersey City's cultural and civic renaissance," he said.