Three-year transformation of world-famous institution adds exhibition space and facilities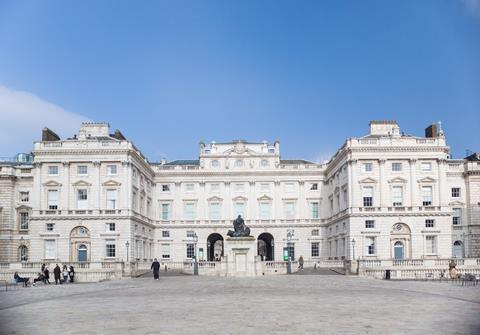 Witherford Watson Mann has completed its transformation of the Courtauld Gallery in central London.
The project involved the painstaking restoration of Sir William Chambers' classical building on the Strand, several major interventions – and "1,000 small adjustments".
Stephen Witherford, a director of the Stirling Prize-winning practice, said "if done well people will hardly notice these".
He described it as a "significant transformation in the feel and generosity of what are in many ways quite domestic spaces".
The Courtauld moved its collection – spanning for Middle Ages to the 20th century – into the Strand block of Somerset House in 1989 but the building was originally built to house nine institutions including a nascent Royal Academy and the Hawkers and Pedlars Office. This history lumbered the world-famous institution with a legacy of poorly connected and inaccessible – if beautiful – spaces.
Witherford Watson Mann was appointed to the prestigious job in 2014 with a brief to re imagine the building and restore it.
"It's quite a significant intervention," said Witherford. "The art is bringing those two things together closely enough to have a conversation rather than a shouting match."
The biggest move was to create a new concrete vault beneath the entrance vestibule to connect the east and west staircases and to hold up the building.
Two new temporary exhibition galleries have been created by removing small attic rooms, while two lifts have been added to create step-free access.
The Great Room – London's oldest purpose-built exhibition space and the largest space in Somerset House – is one of several historic gallery spaces that have been restored. It will house works by Cézanne, Manet, Van Gogh, Gauguin, Renoir, and Monet.
The Courtauld Connects project was supported with £11 million of Heritage Lottery funding and other donations.
The gallery will reopen to the public in November.