More than 100 schools containing cheap concrete told to immediately close after collapse of beam previously thought to be safe
The government is under growing pressure to explain why it has waited until days before the start of the autumn term to order the closure of schools found to contain a lightweight form of concrete that can collapse without warning.
The Department of Education (DfE) yesterday told more than 100 school buildings to close following years of warnings from experts about reinforced autoclaved aerated concrete (RAAC).
The lightweight material was used across the UK and in many types of buildings, including hospitals, from the 1950s to the 1990s but has now passed its 30-year design life.
The DfE said yesterday that "new evidence" had emerged over the summer which required buildings that contain RAAC to close immediately.
What the schools minister said
This morning, schools minister Nick Gibb told the BBC that surveys during the summer had found that RAAC which had been considered low risk had "actually turned out to be unsafe".
He said that a beam which had given no external sign of being a critical risk had collapsed.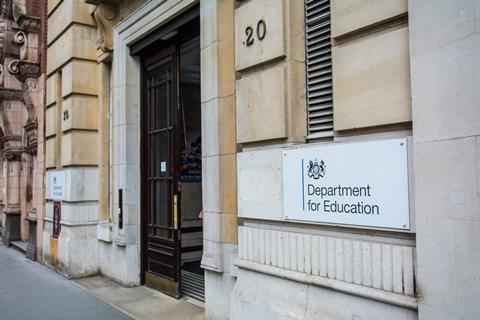 "What we discovered over the summer was a number of instances, in schools and in non-schools, in England and outside England, where RAAC that had been considered to be a low risk actually turned out to be unsafe.
"So over the summer - given this evidence - we had to take a decision. And some of that evidence, by the way, was as late as last week. We had to then decide what to do given the previous advice," Gibb said.
How many schools are affected?
So far, 156 schools have been confirmed as containing the concrete, with 52 deemed to be a critical risk having put safety measures in place, including structural supports.
The DfE has told the remaining 104 school buildings, which had been considered non-critical, to be vacated and restricted until "appropriate mitigations are in place".
Local Government Association senior vice chair Kevin Bentley said he was notified yesterday that 50 out of 550 schools in Essex had been identified as having RAAC, and some will have to close.
Gibb has admitted that more schools could be told to close as new information comes to light. A report by the National Audit Office in June found that the DfE had identified 572 schools where RAAC might be present and warned the risk of injury or death from a collapse was "very likely and critical".
However, the government has refused to publish a list of the affected schools, arguing that parents should hear from the schools themselves rather than from the media.
What opposition parties have said
Labour has urged ministers to "come clean" and publish a list of schools containing RAAC, and questioned why it has taken so long for the guidance to be issued.
Shadow education secretary Bridget Phillipson said the situation was an "absolutely staggering display of Tory incompetence as they start a fresh term by failing our children again."
"Dozens of England's schools are at risk of collapse just days before children crowd their corridors. Ministers have been content to let this chaos continue for far too long," she said.
Liberal Democrat education spokeswoman Munira Wilson said "pupil safety is paramount but for this to come out just days before term starts is totally unacceptable".
The Labour-run Welsh government announced yesterday that it will start surveys of the country's schools to identify RAAC, with the Scottish government also confirming that surveys are under way.
What other building types are affected?
RAAC was used for decades in many types of buildings and government construction programmes and is causing increasing concern across the public sector. In June, the government ordered all departments to investigate their estates to identify where it might be present.
Last year, health minister Maria Caulfield admitted that 34 hospital buildings in England were at risk, a situation which was described by the boss of one affected hospital boss as a "ticking time bomb".
In May this year, the Ministry of Defence revealed it was investigating hundreds of buildings feared to be on the verge of collapse because they were built with the concrete.
Housing associations are now being advised to urgently check their buildings for RAAC and conduct immediate structural surveys where it is found.
Greg Carter, legal director and construction and insurance law specialist at Winckworth Sherwood, said: "Where social housing providers have not already done so, they should urgently check as-built drawings and specifications and if RAAC is found to have been used commission structural surveys to verify its condition and any remedial works.
"Unlike schools, no nationwide survey of social housing has been conducted and the extent of the problem is unknown. Thorough checks of housing stock will be the only way to fully understand the size and scale of any problems."
What the industry is saying
RIBA president Simon Allford said: "All young people and staff deserve to learn and work without fearing for their safety. We have repeatedly raised concerns about the dangerous state of some school buildings – and the Government has failed to fund desperately needed repairs.
"It's shocking to see this advice issued, just days before schools are due to reopen. The Government must now make it an immediate priority to identify the extent of remediations necessary and fund them without delay."
It is understood that the concrete is vulnerable to deterioration when exposed to water ingress from leaking pipes or damaged roofing.
Arcadis Education sector lead Andrew Dutton explained: "RAAC is not really concrete - while it has some similarities to concrete, because of the way it is made it is far weaker.
"One of the main challenges is that it is not that easy to detect RAAC; it is typically in planks forming part of roofs and could be hidden behind suspended ceilings. So normal surveys and condition data do not necessarily confirm if RAAC is present.
"Given that RAAC was used in numerous schools and colleges, as well as a range of buildings on other sites, between the 1950s until the mid-1990s, it could be found in any school and college building that was either built or modified during this period.
"There is an increased risk of failure when RAAC has been damaged through roof leaks or building alterations."
Phil Caton, construction law partner at legal firm Aaron & Partners, criticised the government's process for identifying the material and said that liabilities could be "substantial".
"The government's recent decision to close schools with RAAC structures raises urgent concerns about safety, liability, and public trust," he said.
"One glaring issue is the reliance on self-reported questionnaires from schools to identify RAAC presence, without a clear, immediate verification process by the Department for Education.
He added that the lack of transparency compromises the accuracy of the reporting and has left parents in the dark about whether schools are genuinely safe or have been inspected.
"From a legal standpoint, the liabilities here could be substantial. Schools, local councils, and potentially past contractors could be implicated in a series of complex legal disputes over responsibility for material failures or incidents.
"Given that RAAC was popular between the 1950s and mid-1990s, many original contractors and designers may no longer exist, making it difficult to seek any legal redress or obtain original technical information. This adds complexity to an already challenging situation involving potential legal disputes and public safety concerns.
"There's an urgent need for a transparent, coordinated approach among government bodies, schools, and construction experts to manage both the immediate safety risks and the long-term legal implications of this matter."
Who will do the repair work?
Bowmer + Kirkland and Willmott Dixon – both major contractors in the education sector – told Building they had not been contacted by the government about either emergency remediation work or rebuilding jobs.
A spokesperson for the latter explained that government and industry were "just at the start" of what could be a 24-month process of procurement and building.
"The government simply ascertaining from other specialists they have what the scale of the situation is and what needs to be done to fix it," he said. "When the time arises, we will have a meaningful dialogue with whoever we need to speak to – our teams are looking at it, every tier one will want to be part of the solution."
Who is responsible for this process remains to be seen. The Department for Education has its own construction framework, but if local authorities are made responsible for the rebuild, they could use their own frameworks or use procurement bodies like Scape, Procurement Hub or Pagabo to get to market quickly.
The role that MMC has to play – particularly in building the temporary structures which will inevitably be necessary as a stop-gap – is another major question mark. In 2020, the DfE named 10 offsite contractors that it would use for a projected four-year, £3bn pipeline.
But the success of the programme has been questionable. Caledonian Modular, one of the firms picked for the MMC framework, went into administration and just weeks ago the government announced a probe into schools it had built after structural defects attributed to poor workmanship were discovered at three schools.
Hull-based Eco Modular, another of the 10 firms picked, went into administration in March. It was later bought by Spatial Initiative, one of its DfE framework stablemates. Just four-out-of-five of the government's favoured modular schoolbuilders are left standing – Bowmer & Kirkland, Elliott Group (now Algeco), Laing O'Rourke, Wates, Net Zero Buildings, Portakabin and Reds10 make up the pack.
The other issue for the government could be capacity, with the construction industry still highly active and facing a mounting labour shortage issue. One tier one contractor told Building: "We just don't have the capacity to drop everything and deal with this straight away […] the notion that the government just clicks its fingers or says, 'we've got this work, guys, get on with it', it is not as straightforward as that. The more you look at it, the more you see it is not an overnight fix."
What is RAAC exactly?
Reinforced autoclaved aerated concrete (RAAC) is a cementitious material made from fine aggregates. It is factory produced and aerated using a gas then cured by heating. RAAC differs from autoclaved aerated concrete, which is used extensively to produce lightweight blocks with good insulation properties, as it includes steel reinforcement so it can be used for applications requiring better tensile performance. Produced as precast planks, RAAC is mainly used for roof structures although it has been used for walls and floors too.
RAAC has been used since the late 1950's and was used extensively up to 1980 with some examples dating to as late as 1998. The material was popular because the planks are considerably lighter with much better thermal insulation properties than conventional concrete planks, making it ideal for flat roofs. But the nature of the material means that it has a limited life of 30 years with structural deficiencies becoming apparent in the 1990's. In 2018 a school flat roof built from RAAC catastrophically collapsed at a weekend, prompting the Local Government Association and Department for Education to contact all school building owners to warn them about the material.
The problem is RAAC is much weaker than conventional concrete with a compressive strength of just 2-5N/mm². It is also very porous which means the reinforcement must be coated to protect it against corrosion. Despite this, the reinforcement can corrode particularly if the roof leaks, leading to spalling. The material is also prone to cracking because of moisture in the concrete and temperature related movement. It is also prone to creep, leading to sagging panels which promotes water ponding on the roof, making leaks more likely and adding extra load on the panels. And RAAC planks can act independently with limited load sharing with neighbouring panels.
As time has gone on our understanding of the potential problems with RAAC has improved. The 2018 school roof failure was thought to have been caused by shear failure close to the place where the panels were supported with the reinforcement stopping short of that support. Manufacturing defects have been found too. RAAC panels rely on transverse reinforcement bars perpendicular to the longitudinal bars; the placing and workmanship of these has been found to be lacking. And there are construction issues too such as cutting the panels to fit onsite, with the risk the transverse bars aren't over the area of the panel being supported by the wall. Detecting these problems is difficult because intrusive investigation is needed including at the junction between the wall and the panels.
Chris Goodier, the professor of construction engineering and materials at Loughborough University and an expert on RAAC says our understanding of the issues affecting RAAC has grown significantly over the last couple of years and is still improving, leading to the DfE's decision to close over 100 schools just before the start of term. "Our knowledge of the material has drastically increased over the last few weeks," Goodier says, suggesting new problems have been identified. According to Nick Gibb, education minister the decision was taken because a beam failed in a school that was previously deemed to have been safe.
Additional reporting by Thomas Lane, group technical editor