City wants to move 1,000-year-old market to Essex and replace it with culture and kiosks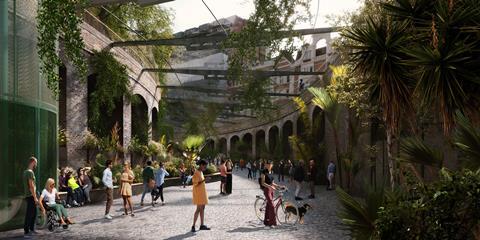 Studio Egret West has revealed images of what Smithfield Market could look like after the historic market has moved to Essex.
The visualisations show a "cut" made in the floor of Grand Avenue, the striking road through the market, to create views and bring light into the cavernous basement.
Cultural and entertainment spaces would be created and the architects have proposed a continuing role for food in the market's future, with training in growing, preparation and consumption of ingredients happening on site on site.
Studio Egret West (SEW) was appointed lead architect in January by the City Corporation which owns the listed complex. It is working with heritage architects Donald Insall Associates, Alan Baxter Associates, Max Fordham, Greengage, Spiers and Major, PT Projects, Deloitte, Iceni, and This Must Be The Place, specialists in "meanwhile uses". Hawkins Brown was appointed to design the public realm.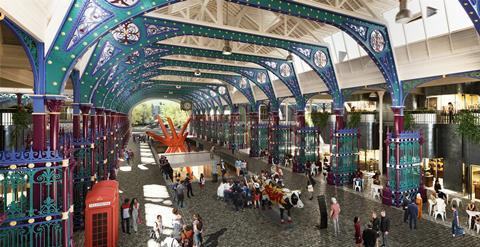 The proposals focus on the East and West Market buildings and the Rotunda once Smithfield Market operations have moved, along with Billingsgate and New Spitalfields markets, to a new building designed by Chetwoods on the site of Barking Reach Power Station.
The City Corporation submitted an outline planning application for the relocation in June this year, but it requires a private bill to be approved in Parliament.
Smithfield is the last wholesale market in central London and the capital's oldest market. Trading at the site stretches back 1,000 years. Billingsgate, the UK's largest inland fish market, moved from the City to the Isle of Dogs in 1982. New Spitalfields, which specialises in fruit and vegetables, moved from Spitalfields to Leyton in 1991.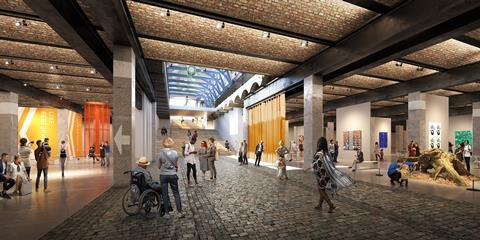 The City's wider plans for Smithfield – part of its Culture Mile vision for the area stretching from Moorgate to Farringdon – involve demolishing Powell & Moya's unlisted Museum of London building to make way for a Diller Scofidio & Renfro concert hall. The museum would move into the western end of the market, under plans designed by Stanton Williams, Asif Khan and Julian Harrap Architects.
The whole area is set to be transformed by the opening of AHR's Farringdon Crossrail station, briging it within reach of many more visitors.
David West, founding director of Studio Egret West, said: "Smithfield Market constitutes a collection of unique spaces, above and below ground. Our approach is to enhance what is there, to celebrate the multi-layered, metropolitan character of the place and to release its full potential through a series of unlocking moves.
"We envisage a demand for year-round public realm and airy 'inside-outside' spaces, especially in the aftermath of covid-19. Smithfield can provide a plethora of flexible creative, cultural and commercial spaces for the public to enjoy."