Closing remarks on latest phase of Grenfell Inquiry says construction more focussed on profit while BBA branded 'hopelessly weak'
The architect who led the refurbishment of Grenfell Tower has been labelled "hapless" at the inquiry into the 2017 fire.
Stephanie Barwise QC, representing some of the bereaved, eviscerated the refurbishment's lead consultant, architect Studio E, saying the project was "hastily conceived by an inept design team".
Studio E, which also gave a closing statement, has since gone into administration.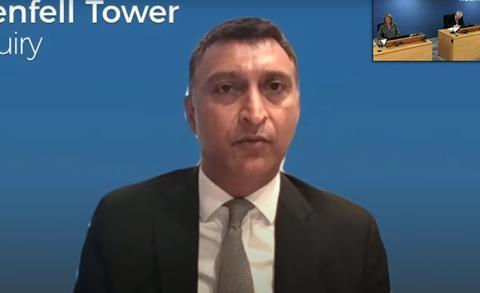 Prashant Popat QC, representing the practice, said the firm should not be judged in hindsight because it had relied on the advice of experts and had not "departed from the norm".
He said: "The former Studio E employees are devastated that in spite of this, in spite of the way it carried out its duties, such a horrendous tragedy could happen".
Barwise also said the fire which claimed 72 lives "demonstrates the existence of a culture of non-compliance within certain sectors of the construction industry".
She added: "Put bluntly, there is a kind of recklessness, as to whether or not compliance is achieved."
Barwise said certification body the British Board of Agrement, which was unaware that cladding panels manufactured by Arconic failed to meet required fire safety standards until 2018, was a "hopelessly weak institution".
She said the body was "too willing to please commercial clients at the expense of ensuring appropriate safety standards".
Martin Seward QC, representing the Fire Brigades Union, told yesterday's hearing that "ultimately, the profit motive prevails over safety and quality".
The inquiry was hearing closing statements about the tower's refurbishment as module 3 of phase 2 of the inquiry draws to a close.
The next module of the inquiry will focus on how central and local government responded to the disaster.