We showcase the best entries in our Building [Re]Design competition
This summer Building Design became Building [Re]Design and launched the Stratford Design Challenge.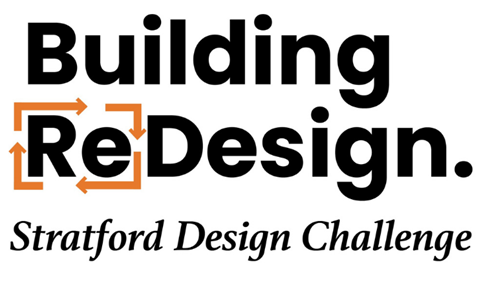 We invited you to examine the east London town centre, identify an issue that interested you and had resonance further afield and then - in less than 500 words and one image - propose a solution.
We particularly encouraged early-career architects and students to participate and assembled an influential panel of judges to scrutinise the entries (see box, below).
Here, in the start of a new series, we present the first of the nine shortlisted entries.
All the finalists will be celebrated at the Architect of the Year Awards (AYAs) on October 14, when we will also announce the judges' decision.
Book your tickets to the AYAs here.
Alongside the competition, the Stratford Design Challenge invited leading urban thinkers to contribute to a series of thought leadership pieces. Those published so far can be found here.
1/ The Stratford Connector
By Fahad Malik of Wadhal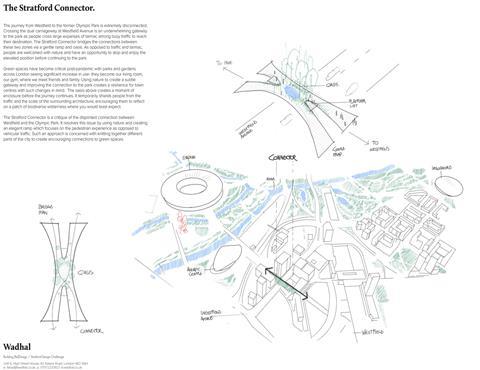 The journey from Westfield to the former Olympic Park is extremely disconnected. Crossing the dual carriageway at Westfield Avenue is an underwhelming gateway to the park as people cross large expanses of tarmac among busy traffic to reach their destination. The Stratford Connector bridges the connections between these two zones via a gentle ramp and oasis. As opposed to traffic and tarmac, people are welcomed with nature and have an opportunity to stop and enjoy the elevated position before continuing to the park.
Green spaces have become critical post-pandemic with parks and gardens across London seeing significant increase in use- they become our living room, our gym, where we meet friends and family. Using nature to create a subtle gateway and improving the connection to the park creates a resilience for town centres with such changes in mind. The oasis above creates a moment of enclosure before the journey continues. It temporarily shields people from the traffic and the scale of the surrounding architecture, encouraging them to reflect on a patch of biodiverse wilderness where you would least expect.
The Stratford Connector is a critique of the disjointed connection between Westfield and the Olympic Park. It resolves this issue by using nature and creating an elegant ramp which focuses on the pedestrian experience as opposed to vehicular traffic. Such an approach is concerned with knitting together different parts of the city to create encouraging connections to green spaces.
2/ Stratford Planning Exchange
By Chris Simmons of Studio Chris Simmons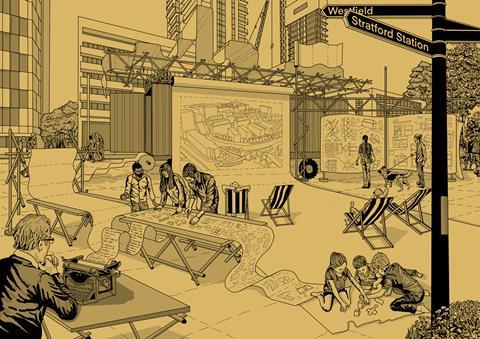 Stratford is in the midst of huge development and change but is at risk of becoming rife with more of same schemes which benefit the few and neglect the many. The poster child of regeneration is at risk of becoming the place that lost its way.
Long held systemic issues with the planning system mean people are uninformed or disenfranchised, development just happens. The system is opaque, we only have conversations with a laminated form tied to a lamp-post. Public consultation is a tick box exercise, funded and skewed by the applicant, we say we listen but we don't. We need to respond to this new world and it starts with Stratford
Stratford shall become the testbed of a democratised local system where town planners are held accountable by the public rather than hiding behind their out of office emails. We need to start really asking people what they want rather than convincing them that our option is what they need. Bottom up rather than top down. We will create an egalitarian architecture by facilitating a dialogue between different audiences to address their social needs. Sustainability and creative re-use of existing buildings will be at the heart of our approach. A pioneering approach for a post-covid time.
We envisage a civic space of public participation, a forum for change. Funded by the council and available by all. A platform that is truly open and communicative about what is going on in the city and how people can inform it. A movable place for creating local plans and design codes, an open platform for debate. We are creating a hive of community spirit with pounds of social value where low cost and vibrancy is placed ahead of profit. We are learning from our elders and engaging with our young to benefit the future.
The Stratford planning exchange takes the form of a mobile system of demountable frames and endless rolls of canvas. We have created a kit of parts that can be deployed around the Stratford locality, highlighting certain areas or schemes that are to be discussed. We can plug on to existing buildings and give the public the feeling of a place when it is being designed. The exchange is temporary and movable or can be permanent and fixed.
The rolls and rolls of canvas are a metaphor for the endless ideas of the people which are celebrated at the exchange. The role of yellow tracing paper gives people confidence to draw and the typewriter is there to record their stories. Our stretched canvas cinema screen and story boards provide media in a variety of ways encouraging engagement and dialogue. The roof of the movable container becomes a folded ribbon communicating the latest of proposals to the city
Stratford has the chance to be a pioneer; to become a test bed for a radical change to a national problem that can provide a more liveable and lovable city.
The full set of shortlisted entries will appear on Building Design's website, our newsletters and social media in the run up to the AYAs.
All the finalists
Catja de Haas, Catja de Haas Architects
Alcina Lo, Andreas Lechthaler Architecture
Fahad Malik, Wadhal
Lizzie McHugh, EWA
Anna Muray and Jack Lynton-Jenkins, O3S
James Prior, O3S
Sanaa Shaikh, Native Studio
Chris Simmons, Studio Chris Simmons
Kirsty Watt, Gras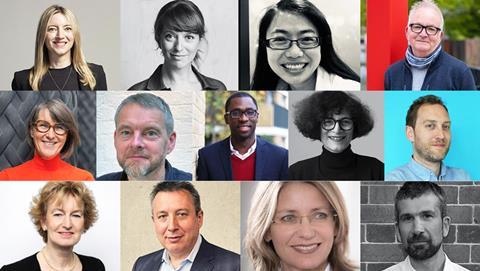 The Stratford Design Challenge judges
Pam Alexander, urban regeneration specialist, director of London Legacy Development Corporation (LLDC) and Connected Places Catapult, chair of digital community engagement company Commonplace.
Phil Askew, landscape and placemaking director at Peabody working on £8bn Thamesmead regeneration. From 2008-17 he led on the landscape and public realm transformation of the Olympic Park into the Queen Elizabeth Olympic Park.
Siu-Pei Choi, senior design manager at Wates Residential. Graduating from the Bartlett, she previously worked as an architect at Patel Taylor, Levitt Bernstein, Fraser Brown Mackenna and HTA, specialising in residential and regeneration schemes.
Melissa Dowler, director of Bell Phillips Architects and an external examiner at Greenwich and Westminster architecture schools. She has extensive experience of regeneration and residential projects working with local authorities and private-sector clients.
Kathryn Firth, partner in FPdesign, is an architect and urban designer. She was chief of design at the London Legacy Development Corporation (LLDC) from 2011-14. She also teaches at Harvard and the Bartlett, is a mayor's design advocate and serves on several design review panels.
Lanre Gbolade is production innovation lead at Stratford-based L&Q and co-founder of Gbolade Design Studio, with experience on large-scale residential projects. He serves on RIBA practice & profession committee and is a founding member of Paradigm Network promoting black and Asian representation in the built environment.
Tom Holbrook, founding partner of 5th Studio which specialises in complex urban regeneration, sustainability and the resilience of cities. Current work includes masterplans around Stratford and the Royal Docks. He is a mayor's design advocate and professor of architecture and urbanism at RMIT.
Kay Hughes, director of design at HS2 Ltd and the former head of design at the Olympic Delivery Authority and senior project sponsor at the Foreign Office. She was also part of the winning team in the National Infrastructure Commission's ideas competition for the Oxford-Cambridge arc.
Roland Karthaus, founding director of Matter Architecture which works across sectors and scales and is known for its research including a project with the Ministry of Justice to improve prison design for wellbeing. An architect, urban designer and public sector client, he is also a tutor at the University of East London, a member of the High Streets Task Force and a Design Council expert.
Claire McKeown, project director of V&A East, leading on construction for the museum's two new venues in the Queen Elizabeth Olympic Park at Stratford – the Waterfront Museum, which is being designed by O'Donnell & Tuomey, and the Collection & Research Centre at Here East, by Diller Scofidio & Renfro.
Simon Tonks, senior associate at RSHP. He was project architect on the Transport for London headquarters at Stratford's International Quarter London and also worked on the Leadenhalll Building in the City of London. He is currently leading detailed design and delivery of the 220m Qianhai Financial Holdings Tower in China. He has a particular interest in affordable and sustainable residential design.
Leanne Tritton, founder and managing director of ING Media, the built environment communications specialists, and incoming chair of the London Society. She is a regular speaker and writer and has worked in Australia, the USA and the UK.
Keith Waller, development director of Costain and programme director of the government's Construction Innovation Hub, working with government, academia and industry to transform construction.