William Hill gives John Morden Centre and Lavender Hill Courtyard Housing shortest odds
Bookmaker William Hill has named Mae Architects and Sergison Bates Architects as its favourites to win the 2023 Stirling Prize after RIBA announced the six-strong shortlist for the highest accolade in UK architecture.
Mæ's John Morden Centre in Blackheath and Sergison Bates' Lavender Hill Courtyard Housing in Clapham have both been given odds of 3/1 of victory this year.
The two shortlisted practices with previous Stirling Prize wins under their belts are not far behind, however. Witherford Watson Mann Architects, which won in 2013, and Feilden Clegg Bradley Studios, which shared 2008's prize with Alison Brooks Architects and Maccreanor Lavington, both have odds of 4/1 for their projects – Courtauld Connects and the University of Warwick Faculty of Arts.
Joint-last place in the opening betting goes to Apparata Architects' A House for Artists and Adam Khan Architects' Central Somers Town Community Facilities and Housing – which are the 5/1 outsiders.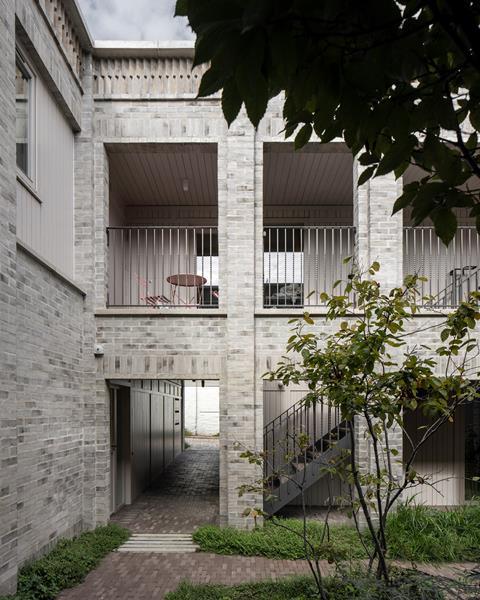 William Hill spokesperson Lee Phelps said that despite the differing odds, the field was still extremely close.
"This year's RIBA Stirling Prize looks wide-open," he said. "The odds just about favour Lavender Hill Courtyard Housing and John Morden Centre, who share the head of the betting at 3/1, but there really isn't much to separate the six nominees."
The winner of the Stirling Prize 2023 is due to be announced at a ceremony in Manchester on 19 October.
RIBA Stirling Prize Shortlist 2023
:: A House for Artists by Apparata Architects (Barking, London)
Flexible live/work space for 12 artists. In exchange for reduced rent, they deliver free creative programmes for the neighbourhood through a street-facing, glass-walled community hall and outdoor exhibition space.
:: Central Somers Town Community Facilities and Housing by Adam Khan Architects (Camden, London)
Part of a larger masterplan, this project includes a flexible community children's facility, adventure playground and several homes for social rent.  
:: Courtauld Connects – The Courtauld Institute of Art by Witherford Watson Mann Architects (London)
Part of a multi-phase project that aims to open up the institution both physically and culturally. This phase includes the reworking of the entrance, a beautiful new stair down to basement visitor facilities; and re-levelling and opening up the 18th century vaults.
:: John Morden Centre by Mæ (Greenwich, London)
Day centre for a later-living residential charity. The timber and brick building includes a medical centre, café, lounges and offices. A meandering timber spine forms an enclosed forest-like walkway stitching together a series of brick pavilions, expertly combining recreational and more tricky medical facilities without feeling institutional. 
:: Lavender Hill Courtyard Housing by Sergison Bates Architects (Clapham, London)
Tucked away down a timber-lined passageway, barely visible at the end of a Clapham mews, Lavender Hill Courtyard has redeveloped a former sheet-metal workshop into nine apartments, arranged around a courtyard space and a timber-decked terrace on the first floor. 
:: University of Warwick – Faculty of Arts, Feilden Clegg Bradley Studios (Coventry)
A new building that brings together the departments and schools of the arts faculty under a single roof for the first time. Four pavilion buildings are connected by a feature staircase, inspired by the structure of a tree, that organically grows through the central atrium space, each branch helping to demarcate various communal spaces to encourage cross-disciplinary collaboration. At the base of the stair it splays to form an amphitheatre.