Survey shows inflation-busting rises for some but growing proportion looking to jump ship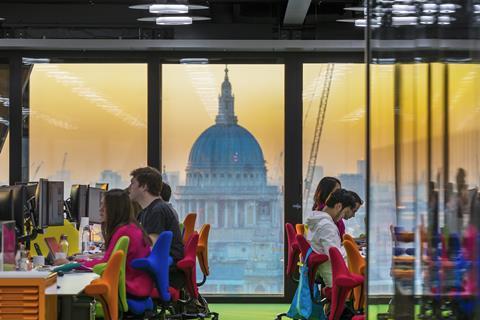 Some architects have enjoyed double-digit pay rises over the past 12 months, but those left out in the cold are increasingly seeking out new jobs, according to a new salary survey.
Frame Recruitment's annual crunch of pay and sentiment among UK architects and interior designers found a drop in the proportion of respondents stating they had a pay rise in the past year.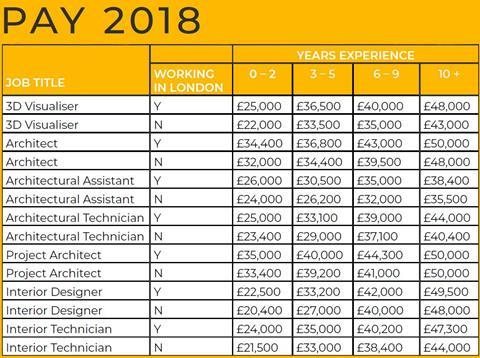 Only 40% said "yes" when they were asked if their pay had gone up during 2018 – a marked decline on 2017's 60%, the 56% recorded in 2016 and 2015's 63%.
However when interior designers were factored out of the survey results, Framesaid all architects and architectural technicians had seen average pay rises. But some rises were much better than others.
It said junior architects with up to two years' experience who work outside London pocketed a 12% average pay hike during 2018, while their counterparts working in the capital only managed an 8% boost.
Their more experienced colleagues – with 10 or more years under their belt – also notched up a healthy 5% increase if they work outside the capital; or 2.2% for their London-based counterparts.
The figures underscore a trend highlighted in last month's RIBA benchmarking survey, which suggested that staff-retention was an increasing focus among practices against a backdrop of ongoing Brexit uncertainty.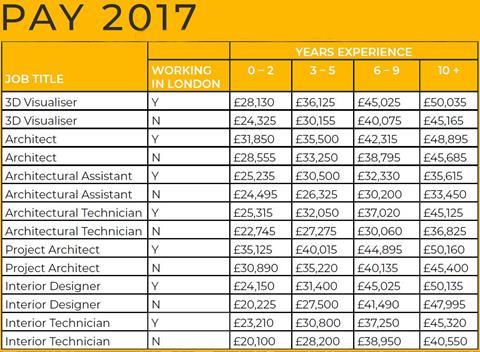 Frame's findings noted an increase in the proportion of architects and interior designers looking to change job over the course of the next year. Forty-nine per cent of respondents to 2018's survey said they planned to change job in the coming 12 months, up from 42% in 2017 and 41% in 2015.
Well over half (58%) of respondents with up to two years' experience said they were planning to leave their job in 2019.
Frame said that while the actual turnover rate had not matched the proportion indicated in previous years' surveys, there was a correlation.
Managing diretor Martin Bennell said 2018's figures showed that 28% of survey respondents had been in their job for less than one year, and the projected 2019 turnover rate of close on 50% would have "significant implications" for practices' recruitment activities this year.
"We are not able to estimate precisely how this will end up, but it would be easy to predict a turnover in excess of 30%," he said.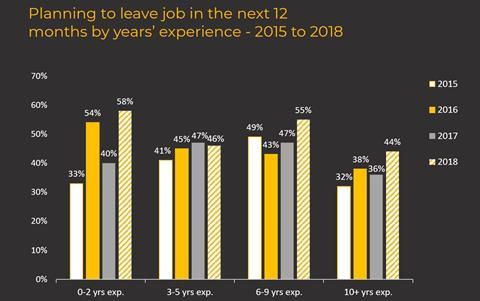 Bennell said that the findings indicated that the sector had moved from an employers' market to a candidates' market over the past three years – a situation that appeared to be fuelling a recognition among practices that they needed to hang on to their most valued staff.
"It appears clients are rewarding staff with many years of training and experience with increased salaries in 2018," he said.
However Bennell observed that firms could not afford to overlook the happiness and security of their lower-ranking workers.
"Losing junior staff can have a big impact on business of all sizes – costs of re-hiring, on-boarding and training are significant," he said.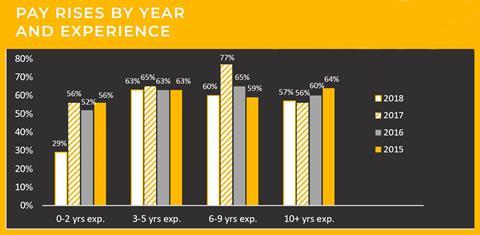 At a time when gender pay discrepancies within the same company are under the spotlight, FRAME noted that female architects starting out in the profession were receiving the same pay as their male counterparts "and in some cases higher salaries".
Elsewhere, the survey looked at market trends for 2018 within the architecture and interior design sector, as measured by the proportion of candidates being hired by clients for particular kinds of work.
FRAME found the transport and hospitality sectors were both in growth mode, but residential and commercial were contracting.