Nationwide Building Society working with Igloo Regeneration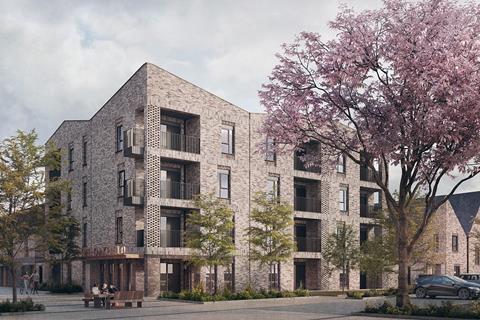 The Nationwide Building Society has had its plans to build 239 new homes designed by Metropolitan Workshop and PRP on a brownfield site in Swindon approved.
Working with Manchester-based Igloo Regeneration, Nationwide will start building a mixture of two-, three- and four-bedroom homes for sale or rent, plus 71 affordable one-, two- and three-bedroom apartments before the end of this year.
First homes on the scheme are expected to be ready for residents from the spring of 2021.
The £50m not-for-profit development will be built on the 5.3ha site of the former Oakfield university campus, which was pulled down 10 years ago.
Nationwide, which urged others in the sector to follow its housebuilding lead back in April, said it first began consulting local communities about its plans two years ago, adding that the design of the development had "evolved as a result of their feedback".
The homes will be comprised mainly of terraced houses or maisonettes, with a small block of flats, including community space.
All homes will have at least one parking space and either a private garden or access to shared gardens.
Joe Garner, Nationwide's chief executive, said: "We're delighted to receive approval to deliver a long-lasting, high-quality development in collaboration with local residents and Swindon borough council.
"As a building society we were founded to help improve housing, rather than maximising profit and shareholder return.
"Helping create these new homes and a thriving community is a great example of how we are guided by our purpose of building society, nationwide," Garner added.
Igloo Regeneration said it had "worked hard on the housing designs to ensure we offer a good mixture of homes ranging from one-bedroom flats to four-bedroom homes, suited to a wide range of ages and family types.
"We've been focusing on what else the site can offer, developing the community hub which will form an integral part of the development, and the wider neighbourhood. We've also focused on the new park, making sure there's plenty of green space for people (and dogs) to walk, play, rest and enjoy."