Architects criticise government's Future Homes Standard response for 'falling significantly short'
Architects have criticised the government's response to the Future Homes Standard consultation, saying it does not mention embodied carbon once in 114 pages.
But they welcomed some of the revisions the government has proposed, saying it had listened to concerns they had raised previously.
The government's response, published yesterday, centres on energy efficiency improvements that will be implemented on new homes through Parts L (energy) and F (ventilation) of the Building Regulations.
Architect Seb Laan Lomas, coordinator of the Architects Climate Action Network (ACAN)'s embodied carbon group, said the government had recognised the clamour for embodied carbon to be part of the Future Homes Standard (FHS) but that its response was inadequate.
"The government shockingly fails to mention embodied carbon a single time in its own response," he said. "The industry urgently needs greater commitment on this roadmap from the government, as in the absence of regulation, these upfront emissions continue to have a damaging toll."
This was despite a letter signed by 770 ACAN members being sent to housing secretary Robert Jenrick calling for the standard to recognise the significant impact embodied carbon emissions will have in future homes – almost 70% of a home's whole-life carbon emissions.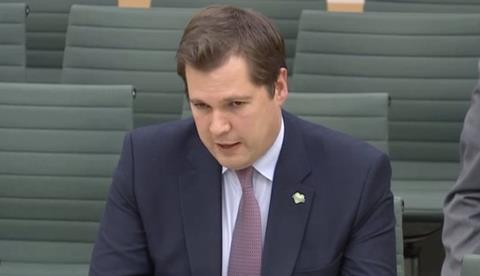 Lomas said there was "overwhelming industry alignment" that the proposals fell significantly short of adequately responding to the climate and ecological emergencies.
RIBA president Alan Jones was also concerned about the failure to address embodied energy. He said: "Several measures outlined in the government's consultation response show some endeavour to tackle the climate crisis. Regulation to ensure no new home will be reliant on fossil fuels; decisions to close the loopholes in the transitional arrangements; and powers to allow local authorities to continue to set their own energy targets are all welcome. However, I am concerned to see no requirement to calculate the operational energy or embodied carbon of new homes. The proposed 'performance gap' measures are not sufficient to determine how well new buildings actually perform."
A table in the government response showed that the number of responses to the consultation from designers, engineers and surveyors was the same as the number from all the other categories put together, including local authorities, developers, contractors and the energy sector.
Seventy percent of respondents said the government's proposal that homes built to the FHS should produce 75-80% less CO2 emissions than one built to current requirements was not ambitious enough. Nonetheless the government stuck to its guns, insisting 75% was reasonable.
It argued that FHS homes would be 'zero carbon ready', meaning that "in the longer term, no further retrofit work for energy efficiency will be necessary to enable them to become zero-carbon homes as the electricity grid continues to decarbonise".
"By delivering carbon reductions through the fabric and building services in a home rather than relying on wider carbon offsetting, the Future Homes Standard will ensure new homes have a smaller carbon footprint than any previous government policy," it added.
Architect Joe Giddings, also an ACAN coordinator, said the group and its allies, Architects Declare (AD) and the London Energy Transformation Initiative (LETI) had had more success convincing the government to adopt some of its other demands.
"Our combined campaigning efforts have influenced some significant improvements, including the retention of the Fabric Energy Efficiency Standard (FEES), without which building performance could have worsened," he said.
"Moreover, local authorities will now continue to be able to respond to the climate and ecological emergencies as they see necessary through retained powers to set local energy efficiency standards – rather than being tied to less-progressive national timeframes."
Jake Attwood-Harris, sustainable design advisor at Hawkins Brown, tweeted: "Great results! Well done to everyone @LETI_London, @ArchitectsCAN, @archdeclare, @Hawkins_Brown and all the other organisations that responded to help get this closer to where we need to be. This is how we tackle the #ClimateEmergency, one thing at a time."
Meanwhile Brian Berry, chief executive of the Federation of Master Builders, questioned whether construction currently has the ability to deliver on the plans. He said that while small to medium-sized housebuilders were primed to build environmentally friendly homes, they would need help to do so after a "difficult year for business". He added: "Unfortunately the timetable set out today will be a challenge for builders without more support to build back greener."
The government, which has now launched a consultation on similar proposals that would apply to all building types, said it hoped the new rules could come into effect in 2022.