White Arkitekter also worked on 35,000 sq m Cambridge project
Plans designed by Hawkins Brown and White Arkitekter to build a new £220m children's hospital in Cambridge have moved a step forward after the city council gave them the thumbs-up this week.
The authority said it had "resolved to award consent" for the scheme, set to be built on the Cambridge Biomedical Campus.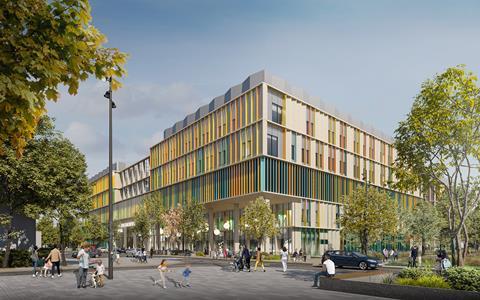 It will look after children from across the east of England – including Norfolk, Suffolk, Essex, Hertfordshire, Bedfordshire and Cambridgeshire.
White Arkitekter jointly worked with Hawkins Brown on the project, which will run across 35,000 sq m, including 5,000 sq m of research space.
An outline business case for the scheme still needs to be approved by the Department of Health and Social Care. Local trusts working on the initiative include the Cambridge University Hospitals NHS Foundation Trust.
Around £20m of the cost is expected to be raised from land sales with construction work starting next year ahead of an opening expected in 2025.
Former health secretary Matt Hancock committed £100m of government funding for the project in 2018.