Scheme designed by London practice Melt
A £13m housing scheme in Hampshire has been given the green light after developer Morgan Sindall came up with plans to reduce nitrate leaks which have blighted the county.
Planning approvals for new housing schemes in the county have been on hold since Natural England, the government body responsible for protecting England's environment, advised planning authorities last April to reject applications for schemes which risked leaking harmful nitrates into the environment.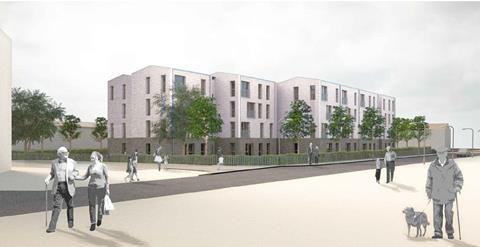 Nitrates, often produced as a by-product of farming and urban development, have been blamed for causing runaway algae growth in the Solent and harming protected habitats and bird species.
The problem and resulting moratorium on planning applications has led to at least 5,000 homes being delayed.
But Morgan Sindall's developer arm Later Living has been given the OK to build 60 affordable apartments, designed by London practice Melt, for people over the age of 55 in Gosport after Natural England approved a water flow solution to reduce nitrate leaks.
The solution means the scheme will save 3,000 litres of water a day using flow regulators.
It has been developed by Later Living, Natural England, the county council and planning consultants Asbri Planning.
Morgan Sindall Later Living director Laurence Basturkmen said: "Multiple development sites across the area have been affected by this problem and we hope that we have proven that with joined up thinking and hard work, it is possible to find a solution."
Though not a new technology, it is the first time that Natural England has given the approach its approval since the planning moratorium was ordered.
The project team also includes technical consultant Poole Dick and nitrate consultant WSP.