Rydon unaware Reynobond cassettes eventually used on tower had 'significantly worse' test results than fixed-panel counterparts
A key manager on the refurbishment of Grenfell Tower did not know that his firm's two preferred overcladding options for the block had different fire-safety ratings, it has emerged.
Main contractor Rydon's contract manager Simon Lawrence told the Grenfell Tower Inquiry he was unaware that a face-fixed version of the aluminium composite material (ACM) cladding system chosen for the job had a better fire-safety rating than the cassette system that was eventually used.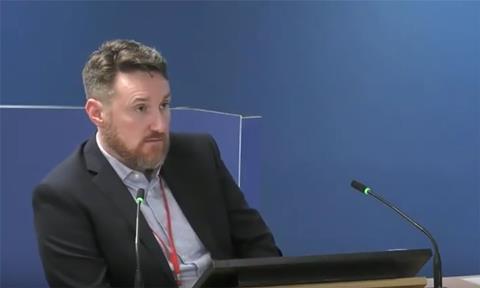 The inquiry into the 2017 fire at the west London block, which claimed 72 lives, heard earlier this week that Rydon was keen to replace the system of zinc cassettes proposed by architect Studio E for an ACM option because it was more than £500,000 cheaper.
Tuesday's session heard that Rydon would have preferred to fit face-fixed ACM to Grenfell as part of the refurbishment project but believed that the visible rivets would have made the move less aesthetically acceptable.
On Monday, Lawrence told the inquiry he was unaware of testing by engineering firm Arconic that found Reynobond polyurethane (PE) panels had "significantly worse" fire performance when they were produced in cassette form rather than panel form.
Inquiry barrister Richard Millett QC said Arconic's 2011 tests had "consistently shown" that the cassette version of Reynobond PE panels only achieved class E under the relevant EN 13501 European standard safety test, while the flat panels for face-fixing achieved the higher rating of class C.
Lawrence said he had not been aware of the difference and doubted "very much" whether anyone else in Rydon knew.
Giving evidence on Tuesday, Lawrence said he only had experience of refurbishing local authority tower blocks with the fixed-panel cladding – the type that had been used in the firm's earlier refurbishment projects on the Chalcots Estate in Camden and Ferrier Point in Newham.
Millett asked Lawrence whether he recalled reading the specific wording of the safety certificate for the Reynobond PE cassettes earmarked to be attached to Grenfell Tower. Lawrence said he did not.
Millett asked: "Did you know that, generally, as the D&B contractor you had to ensure that the installation of the cladding was in accordance with the certificate holder's instructions and the information given in this certificate?"
Lawrence answered: "I would expect that as a general principle."
Asked whether he had ever discussed the issue with Studio E to make sure that the instructions were followed, Lawrence replied "no".
Lawrence was asked whether he ever investigated within Rydon how the company was going to satisfy itself the correct installation procedures were followed. He replied: "We were going to make that happen by appointing a specialist subcontractor."
Millett also asked Lawrence whether he was aware that in addition to the standard version of Reynobond that featured a polyurethane filling, the panels were also available in a version that featured a fire-retardant core. He said he was not.
Elsewhere in his evidence on Tuesday, Lawrence was also asked about his oversight of email trails between the key project team members, including fire consultant Exova, Studio E and Harley. Some involved combustibility issues with the project insulation, others missing drawings relating to cavity barriers.
Lawrence said lots of correspondence went between subcontractors and the architect and it was not possible to open, thoroughly read and fully understand all of them.
Millett suggested that Lawrence's clients – in this case Kensington & Chelsea tenant management organisation would expect their main contractor to do that.
Lawrence subsequently said that he took the email trails he was copied into as evidence that the right people were having the right conversations and members of the project team "were doing what they should be doing".
Inquiry chairman Martin Moore-Bick told Lawrence he got the impression that he had a huge amount of email traffic passing across his computer and had "neither the time or the inclination to read it all in detail".
Lawrence said: "If I had the time, I would have loved to study every single email, but, yes, there is a lot of email traffic, not just on this project but on other topics, and a lot of subjects being discussed.
"For me to understand technically … between two designers … and get involved in that from a technical perspective, I wouldn't do that."
Moore-Bick asked Lawrence whether he felt that he had enough staff support to deal with his workload.
Lawrence said his situation during the Grenfell project had been "typical of the job" and there had been a "full team there".
The inquiry continues.