TMO project manager also felt 'let down' by consultant Artelia over CDM regulations
Kensington and Chelsea Tenant Management Organisation's project manager for the Grenfell Tower refurbishment was frustrated by main contractor Rydon's slow progress with the job and felt "let down" by advisor Artelia, the probe into 2017's fatal fire has heard.
Claire Williams told yesterday's Grenfell Tower Inquiry hearing that she had been actively involved in a formal complaint sent to Rydon regeneration director Stephen Blake in March 2016, when the project was less than two months away from its target practical completion date.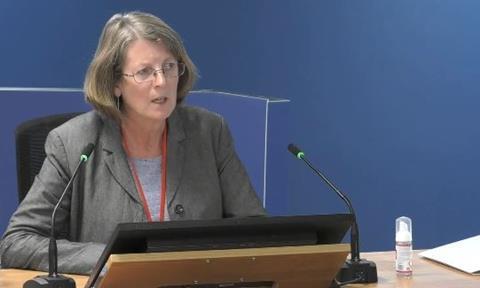 The complaint was penned by Neil Reed of consultant Artelia, who was acting as KCTMO's employer's agent. It said both the TMO and Artelia felt the main contractor "could and should be doing more in the run-up to completion". It cited key staff – including Blake – being transferred away from the project and detailed concerns about meeting attendance and handover issues.
Inquiry lead counsel Richard Millett QC asked Williams if it was true to say she had been frustrated with Rydon.
Williams replied: "With slow progress of works and the lack of responsiveness in some areas, yes."
She agreed that work was very delayed by the time Reed's complaint was sent and that she was concerned about Rydon's attitude to completing the project, which she believed the firm had not been resourcing properly.
"Everything was progressing, but at a sedentary rate," she said, citing a lack of cladding fitters flagged by one of the TMO's clerks of works and "slow workmanship" in the new flats being delivered at the tower's lower levels.
Millett asked whether Williams had fears Rydon might cut corners to keep the project on track or within its own budget, or whether the quality of the workmanship it delivered might fall.
"That wasn't something that I was aware of or I heard any of our clerk of works say," Williams replied. "Nobody had any comment about the quality; it was rather the slow progress, that they hadn't employed enough subcontractors to meet the programme."
'Appalling standard of work'
She was asked about a complaint made by resident David Collins shortly after the TMO and Artelia raised its concerns with Rydon.
Collins, who was chair of the block's residents' association before moving out in 2016, complained about the "appalling standard of work undertaken by Rydon in communal areas and inside a number of residents' properties".
Williams told the inquiry that she had been satisfied that the complaint referred to work in progress that went on to be "properly finished".
Williams was also asked about KCTMO's decision to take on the role of "principal designer" for the project following a change in the Construction and Design Management (CDM) Regulations in October 2015.
Principal designers replaced the role of CDM coordinator – a role that had been fulfilled by Artelia on the Grenfell refurbishment up to that point – and they were responsible for producing a health and safety file for the project client.
The inquiry heard KCTMO unsuccessfully tried to get Rydon, Studio E and consultant Bailey Garner to take on the principal designer role in relation to Grenfell before it was decided that the TMO would be its own principal designer.
It also heard that Williams tried and failed to get a minute inserted into the record of an October 2015 progress meeting outlining circumstances in which the principal contractor Rydon would take on the "PD" role. The suggestion was rejected on the grounds that it would not be an accurate record of the meeting. Williams told the inquiry she was "glad" her approach had been corrected.
'Let down' by Artelia
Artelia offered to provide a CDM compliance advisor service, which would have seen it assist the TMO with its duties in relation to producing the health and safety file under the new regulations. The TMO declined the option.
Millett asked Williams whether the fact that Rydon, Studio E, Bailey Garner and project clerk of works consultant John Rowan & Partners had declined to take on the role of principal designer had indicated to her that it was a task that had "significant risk" attached to it.
Williams answered "no". She added: "It seemed to me more that because it was a new role, people weren't geared up, they weren't trained, they didn't have perhaps a department or people in place who could carry out that role."
Williams subsequently said she stood by a witness statement she made to the inquiry in January in which she said the TMO felt "let down" by Artelia over its guidance on the need for a principal designer to be appointed under the CDM regulations, and the firm's inability to take on the role itself.
Barrister Millett said two different versions of the health and safety file relating to Grenfell Tower were found as part of post-fire investigations. One had been put together by Rydon, the other by the TMO. Neither was complete.
Fire-morning email
At one point on Tuesday, the hearing was adjourned for 30 minutes after Williams broke down when she was asked about email correspondence with TMO colleagues in the late morning of 14 June 2017, while Grenfell Tower was still on fire. At the time the full number of dead was unconfirmed but the toll eventually rose to 72.
Millett noted that the email lacked "any suggestion of surprise or shock that the building was burning" in the light of the assurances she said Simon Lawrence of Rydon had given both her and David Gibson, who had been head of capital investment at KCTMO. Williams burst into tears.
Millett was referring to Williams' and Gibson's claim that Rydon contracts manager Lawrence had reassured them at a meeting hosted by Artelia that the cladding being added to Grenfell as part of the refurbishment was "completely inert".
Williams and Gibson say they saw hard copy minutes detailing the assurance but no copies have been found. Lawrence denies having given such an assurance.
Millett returned to the topic of Williams' work emails on the morning of 14 June 2017 – and the lack of reference to Lawrence's assurances – later in the day.
"I'm just giving you an opportunity to accept that, had Mr Lawrence given you the assurance you say he gave you and Mr Gibson … then your first reaction on seeing the fire would have been to have recorded the assurance, and this would have been a perfect opportunity," he said. "Do you accept that?"
Williams said she thought that she and her colleagues had been directed on the information that was needed from them on the morning of the fire.
"The emphasis was on: 'This is the information that we need to provide', for whatever purpose," she said. "And obviously there are other things going on."
Hindsight
At the end of her evidence, Williams was asked what she would have done differently on the project if she knew at the time what she knows now.
"I would have liked to have been able to evidence in document form the responses from Rydon in relation to my question about flame retardance and David's question about the materials being inert," she said.
"I would have loved to have been able to present those to you [ …] that would have been substantial information for you."
Williams also asked to express her condolences.
"I knew many people who died in the fire," she said. "I'm glad that the inquiry is here and hopefully, through your work, we can get some resolution to stop a tragedy like this happening again."
The inquiry continues.