Art Deco Barkers of Kensington building to be given modern office upgrade
Emrys Architect's plans for a £120m refurbishment of South Kensington's landmark Barkers of Kensington building have been given the green light.
The proposals, designed for Relsa Properties, to rejig the grade II-listed former department store on Kensington High Street were approved by the Royal Borough of Kensington and Chelsea last month.
They will see a new grand staircase added to the interior of the 1920s Art Deco building along with new escalators and suspended walkways hanging from newly exposed ceiling trusses.
A Vierendeel truss bridge, which uses rectangular instead of triangular frames, will also be added at upper levels to improve circulation.
Construction of the eight-storey existing building was halted by the Second World War before being completed in the 1950s.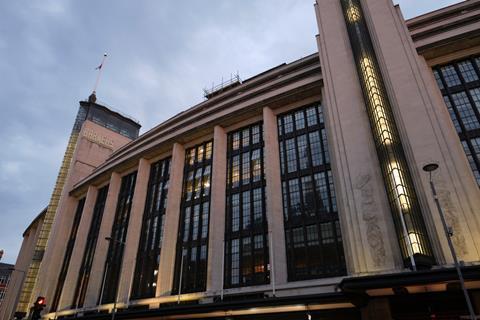 It was largely transformed into office space following a refurbishment in the 1980s which created a large central atrium beneath a vaulted glass roof. Occupiers of the upper floors included the Daily Mail and the London Evening Standard.
Emrys said the 53,000sq m block now fails to provide either effective retail space or quality office space, with the practice hired by Relsa to "revive the building as a prime commercial location while respecting its strong character and heritage".
Original steel columns will be exposed to give the interior a "robust and distinguished" presence and to highlight the building's historic character, while the original ceiling heights, which rise to 4.7m on the lower floors, will be opened up to improve natural light.
A new canteen and outdoor terraces will be created on the roof level in space currently occupied by plant, which will be moved behind new screening, and the building's characteristic roof lanterns will house private dining spaces.
Emrys Architects director Glyn Emrys said the site is one of London's "most distinguished and iconic buildings".
"As architects it is a huge privilege and responsibility to repurpose the building for 21st century use, almost 100 years after the construction first began.
We have sought to retain and enhance the existing building as much as possible, working with it to create flexible new spaces with a clear focus on character, sustainability and wellbeing," he said.
The practice also secured approval last month for plans to create 5,200sqm of office space behind the Victorian facade of an existing building in the City of London.